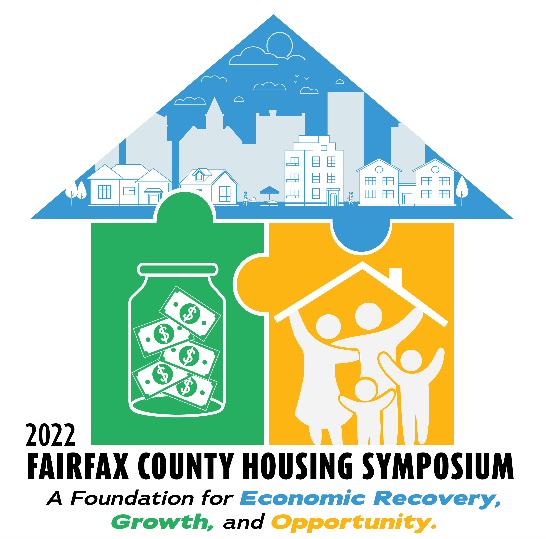 Fairfax County and the Fairfax County Redevelopment and Housing Authority, in partnership with the George Mason School of Business, is planning the third annual Fairfax County Housing Symposium for Thursday, March 17, 2022, from 9 a.m. to 4:30 p.m. The theme of this year's event is "Affordable Housing: A Foundation for Economic Recovery, Growth, and Opportunity." This year's Symposium will be held virtually – the event link and details to be provided to registered participants approximately one week prior to March 17.
The 2022 Symposium will feature a distinguished list of presenters and panelists who will provide an in-depth look at the impacts of and recovery from COVID-19, growing personal wealth through homeownership; advancing economic mobility through housing opportunities; and the preservation/modernization of affordable housing through innovation.
"When we launched this annual event in 2020, it was our desire to open a communitywide dialog that broadened our vision and understanding of affordable housing as a major contributing factor to the overall well-being of individuals, families and communities. It was designed to ignite a change in the affordable housing conversation – moving beyond a discussion of brick-and-mortar development to that of a necessary and critical element of achieving successful outcomes in all areas of our lives. Over the last three years, we have seen in Fairfax County how that paradigm shift has yielded stronger resolve, innovative and creative solutions, and significant results in the delivery of affordable housing throughout our community."

C. Melissa McKenna, Chairman
Fairfax County Redevelopment and Housing Authority
The Fairfax County Housing Symposium has brought together elected leaders, educators, housing industry professionals, policy experts, advocates, residents and more to dig deeper into the area's need for affordable housing and its implications for all Fairfax County residents. Symposium presenters and panelists have shared case studies, the latest supporting data, industry best practices, and strategies for innovating the delivery of more affordable homes to low- and moderate-income households in Fairfax County and throughout the region.
Additional information about the 2022 Housing Symposium – including an agenda for the day's activities and a link to the event registration site – is available online at www.fairfaxcounty.gov/housing/2022HousingSymposium. This website will continue to be updated throughout the coming weeks as the event nears.