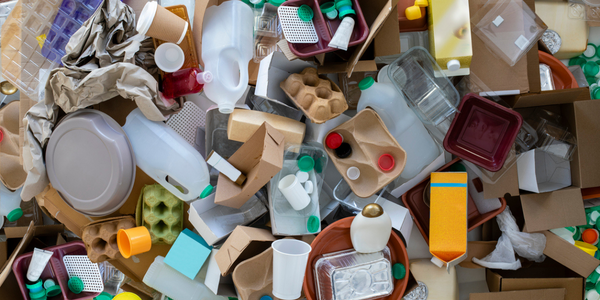 When we reduce, reuse and recycle our trash, we lessen our environmental impact. Increasing recycling means fewer items end up in landfills, which helps conserve energy, decrease air and water pollution, maintain our natural resources and reduce greenhouse gases.
Recycling is an integral part of the county's ambitious Zero Waste Plan, which aims to divert 90% of waste from disposal and reduce the overall waste generated by 25% by 2040.
Here's what you should know about recycling in Fairfax County.
Who Collects My Trash and Recycling?
About 10% of residents and businesses in Fairfax County receive trash and recycling collection from Fairfax County. The other 90% of residents and businesses in Fairfax County receive private collection service. Residents are usually billed by the collection company or pay via their homeowner association fees.
Curbside Recycling Do's
The curbside recycling bin program is designed to collect specific materials. The list below includes recyclable items you should always place in the bin. Keep them loose, clean, and dry – never in plastic bags. Placing unaccepted material or wet, dirty, sticky items in the bin reduces the recyclability of other material. You may leave lids and labels on containers.
Cardboard and mixed paper (including, but not limited to magazines, newspaper, office paper and miscellaneous paper products)
Metal food and beverage containers
Plastic bottles and jugs
Cartons
Glass Recycling
The glass recycling program, or "Purple Can Club" as it's called, uses purple painted drop-off dumpsters to collect glass bottles and jars for resale. Currently, 23 drop-off locations are located within Fairfax County.
Since the program began in April 2019, over 55 million pounds of glass bottles and jars have been collected, most of which are of such good quality that it is used in glass-to-glass recycling. Glass recycling is voluntary, so if this is not possible for you, glass should be placed in the trash.
Glass creates many problems for single-stream recycling. Glass contaminates other more valuable items, such as cardboard and metals. Contamination has become a major problem for the recycling industry since many buyers of the recovered materials have imposed strict standards on the quality of the recycled materials they accept. It is heavy, which results in an unnecessary expense for transporting it to recyclables processing center. Glass containers placed in curbside recycling bins also break during collection and transport where the abrasive broken glass damages the recyclables processing machinery.
Food Recycling / Composting
Food waste makes up as much as one-third of the trash we dispose of every day in Fairfax County. Save your food scraps and compost them at the I-95 Landfill Complex in Lorton and the I-66 Transfer Station in Fairfax or take them to any of the 10 Park Authority Farmer's Markets (check the calendar for months of operation). 
Curbside Recycling Don'ts
Some things should never be placed in the curbside recycling bin. If you are unsure if something is recyclable in the bin, remember, "When in doubt, throw it out." 
Glass (see above)
Plastic bags, film and pillow packing
Food bags and wrappers
Needles and medical waste
Shredded paper
Diapers
Hangers, hoses and cables
Clothes
Foam and plastic takeout cups and containers
Batteries
Climate Action Checklist
Our Climate Action Checklist helps you track your progress in adopting sustainable habits and making environmentally conscious choices that can also save you money. 
Dropoff Locations
In addition to curbside pickup, residents may also take trash and recycling to two facilities in the county:
These sites are recommended to recycle household hazardous waste, electronics, and large or bulky items. Free mulch is also available at these facilities.