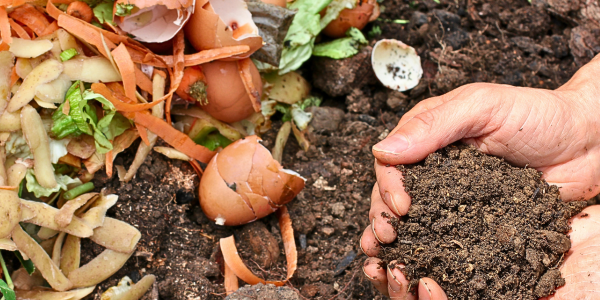 Composting is nature's way of recycling. It's a controlled breakdown of yard waste, food scraps and other organic material. Finished compost is used for landscaping and agriculture and is given to local farmers to ultimately help feed our community. 
Composting has evolved in the last few years and continues to evolve with new food compost drop off spots at our farmers markets.
Discover the five W's and one H of composting:
WHO CAN COMPOST?
Anyone can compost. More than 1,000 types of food scraps and related material can be composted. Whether you decide to compost at home, contract for curbside collection or take your compost to a drop-off location, you will be doing your part to recycle natural matter and reduce methane emissions.
WHAT CAN BE COMPOSTED?
Organic waste, such as animal or plant sources, can be composted. This includes eggshells, meat, vegetable and fruit scraps, coffee, flowers, yard waste and more. Oil, grease, plastic bags, foil, and coated cardboard can't be composted. 
Find a list of food and household items that are compostable.
WHEN TO COMPOST
You can compost any day, any time of the year. We have drop-off locations that are open seven days a week.
If you're composting for your own garden, it can take a few months until the compost is ready to be used. You can plan to ensure that your compost is ready for gardening and landscaping. 
WHERE TO COMPOST
At home
You can compost at home by purchasing a compost bin or making one yourself. In a few months, you will have a great, free soil amendment for your garden and flowers. If you live in a homeowner's association, be sure to check your rules and regulations about placing your composting bins outside.
You can also compost if you live in an apartment or condo by storing your compost in a closed container in the fridge or on your countertop. Once your container is full, you can bring it to a food scrap disposal site. 
There are also several local companies that will pick up your compostable items from your home. 
In the county
Each of the Park Authority's 10 farmers markets now include food scrap disposal sites for food waste to be composted. This expansion is the result of a highly successful pilot program that experienced strong customer support in 2022.
Our public works team also accepts food scraps for composting at the I-95 Landfill Complex and the I-66 Transfer Station. These sites are open seven days a week, Monday through Friday from 7 a.m. to 5 p.m. and Saturday and Sunday from 7 a.m. to 4 p.m. You can drop off food scraps into one of the bins located in the designated drop-off areas. 
The I-66 Transfer Station recently launched a Compost Outpost pilot program that's designed to create optimal conditions for composting and is a test facility to demonstrate small-scale, decentralized organics processing.
WHY COMPOST?
Composting is a natural process where organic waste is broken down into nutrient-rich soil. Composting lowers greenhouse gases by improving carbon sequestration in the soil and avoiding methane emissions. It's a sustainable alternative that puts the nutrients from food back into the earth and eventually our food system by using the finished compost as a fertilizer for local farms. Composting is the final step to completing a sustainable food cycle system. 
Learn more and find answers to frequently asked questions.
HOW TO COMPOST
Composting is as easy as filling an old coffee or food storage container with your food scraps at home and bringing them to a drop off center or farmers market. You can store food waste in your fridge or freezer or a sealed countertop container before you're ready to take it to a drop-off site. You can also purchase compostable bags or containers. 
Yard waste can also be composted. Yard waste includes grass clippings, leaves, straw, flowers, small trimmings and brush. Learn about composting yard waste.
If you'd like to create compost to use for your own garden and yard, purchase or build your own tumbler composter, Northern Virginia Soil and Water Conservation District offers annual build-your-own tumbler composter workshops. You can sign up to be notified when build-your-own tumbler composter workshops and distribution events/sales are available by registering for their Composter Notification List.