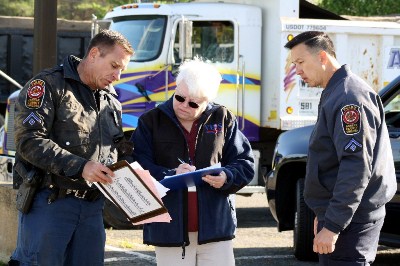 Thank you for your interest in volunteering with the Fairfax County Police Department.
The duties and responsibilities of VIPS are continually evolving as the needs of the department change, especially during the lean budget cycles we have been under in the past few years.
Individuals are not brought into the VIPS Program unless a specific assignment that requires a VIPS is identified by department personnel.  We make all attempts to match the skills and backgrounds of volunteers with the tasks to be accomplished.  Although VIPS are assigned to a primary location within the department, they are also eligible to take on additional short or long term assignments.
Please note that if an assignment is denoted as being "secondary" in nature, only current VIPS are placed in those positions.
All VIPS are required to sign both a Volunteer Agreement and a Non-Disclosure Agreement upon entry into the program.
General office duties
Computer activities
Photography (secondary assignment)
Staff of the Citizens Police Academy (CPA)
General maintenance of police vehicles
Crime Prevention activities, to include Neighborhood Watch Programs, National Night Out, newsletters, and other similar projects at the district stations
Editors for numerous police department publications
Role-players at the Criminal Justice Academy and during other training exercises (secondary assignment)
Child Car Seat Inspections
Fingerprinting (specialized assignment) 
If you are a current college student in a criminal justice program wanting to become involved in actual police work, investigations, or other responsibilities specifically related to active cases, becoming a VIPS will not enable you to do this type of work.  Individuals seeking this kind of volunteer service may be able to apply for the Auxiliary Police Officer (APO) Program. 
Individuals seeking internships or externships with the FCPD should contact the FCPD's Personnel Office for any opportunities within the department. 
Because most assignments require a set schedule of work, if you are only able to volunteer on an occasional basis or only specific hours or days, this type of volunteer program will probably not fit your needs. 
If you are required to complete community service hours for credits or court related purposes, the VIPS Program is not geared towards this temporary or court ordered volunteer service. 
Be at least 21 years of age (no maximum age limit for continuing service in the program)
In good physical and mental health
Able to pass a comprehensive police background check which includes credit and police checks as well as references
Able to pass an interview with police supervisors
Not currently employed as a law enforcement officer (federal, state, or military) due to possible conflict of interest
Complete a VIPS application form
Submit a one to two page resume detailing your education, skills, and employment history
Volunteers are required to complete a minimum of 15 hours of service per quarters/60 hours per year 
Most assignments are daytime hours during the work week
Occasionally there may be assignments that can be completed at night or on weekends, but these are extremely rare
Volunteers receive on-the-job training for their individual assignments.  Volunteers are not trained in doing specific police related tasks, with the exception of fingerprinting, if that is part of their responsibilities. 
If the assignment calls for the use of department vehicles, VIPS are required to attend a vehicle familiarization course, either at a station or the FCPD Track. 
Whenever possible, we will strive to assign VIPS to areas of interest and/or preferred physical locations such as a District Station or the Criminal Justice Academy.  However, the needs of the department are of primary concern in determining where VIPS are ultimately placed.
Polo shirts and jackets
On-duty insurance