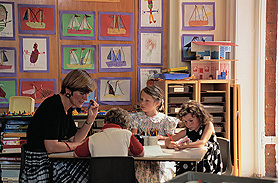 Public and private schools located in Fairfax County are required to recycle mixed paper and cardboard.
Public Schools
In addition to mixed paper and cardboard, the county's public schools recycle glass bottles and jars, metal food and beverage cans and plastic bottles and jugs.  They also collect fluorescent lamps for recycling. For more information, see the public school's official site.
Private Schools
If you belong to a private school and want to collect materials beyond mixed paper and cardboard, you should start by talking to your principal about expanding the existing program.
In order to expand the program, you will need to:
purchase collection containers and place them in classrooms
have a designated recycling dumpster for additional materials
advertise your program
work with students and teachers to separate materials in classrooms, office and library
establish a contract with your custodial staff detailing collection
develop a collection schedule with an established recycling company or self-haul materials to a recycling drop-off center.