This page only applies to residents with county collection service.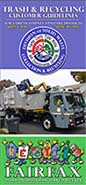 Fairfax County provides trash collection and recycling service to residents who live in Solid Waste Collection Areas (Sanitary Districts). These areas are created through a petition process. Most Fairfax County residences, however, have private collection service. For more information, see "Who Picks Up My Trash."
Regular trash, recycling, yard waste and special collection services are provided on all holidays except Christmas Day. The Customer Service Center is closed in observance of all county holidays.
Email Updates: Sign up to receive Trash and Recycling announcements and emergency information.
Report a Missed Collection
Call 703-802-3322, TTY 711 or use the Solid Waste Feedback Form.
Trash/Recycling Container Service Request
Report a damaged or missing trash or recycling container:  Call 703-802-3322, TTY 711 or email us.
Schedule a Special Collection
Less than 12 cubic yards:
Use the online scheduling system or call 703-802-3322, TTY 711 to schedule a brush, bulk, metal or refrigerant (coolant) collection.
Please remember, only five collections per fiscal year (July 1 - June 30) are included in your base service.
More than 12 cubic yards:
Call 703-802-3322, TTY 711 to schedule a MEGABULK collection. Fee varies.
Learn About Vacuum Leaf Collection
Vacuum leaf collection is a separate service.  Not all county collection customers are subscribers.
Contact Us
Fairfax County Customer Service
Monday - Friday, 7:30 a.m. - 4:00 p.m.
Telephone: 703-802-3322, TTY 711
Email Us