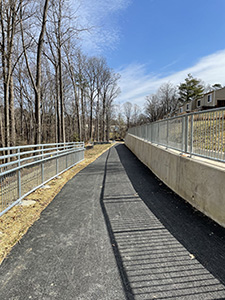 On January 17, 2023, the Fairfax County Transportation Advisory Commission (TAC) voted unanimously to select the Burke VRE Connector Trail Phase IV Project Team as the recipient of the 2022 TAC Transportation Achievement Award. 
The Burke VRE Connector Trail includes two elements:
a 900-foot long asphalt trail that connects Oak Bluff Court to the western terminus of Premier Court; and
a 715-foot long concrete sidewalk that begins in front of Halo Fitness and extends along Premier Court to the existing concrete sidewalk on the south side of Premier Court near the Olympus Fitness Gym.
The project also provides concrete steps for the residents of Crevanna Oaks Apartments to connect to the trail, as well as pavement markings and signs for bicyclists.
The Connector Trail was funded by Fairfax County's 2014 General Obligation Bonds (local transportation improvement funds). It eliminates many vehicular trips to the Burke Centre VRE station and businesses along Premier Court, thus reducing traffic congestion and improving air quality.  It is well located for biking, walking, jogging and fitness activities inside the developing Burke Centre urban setting, and has seen extensive use since opening to the public on March 7, 2022.
Supervisor James Walkinshaw, Braddock District, nominated the project for the award. Project team members include: Deepak Bhinge (DPWES Capital Facilities); Max Hojaatzadeh and Richard Pugh (FCDOT); Sally Kidalov (Braddock District Office); and other team members from the DPWES Capital Facilities, VDOT, Rinker Design Associates, PC (RDA), Sagres Construction Corporation (Sagres), and GeoConCepts/Terracon. The project team is being recognized for their significant contribution to meeting the objectives of the County Transportation Plan and for enhancing the quality of transportation in Fairfax County, and will be recognized at a future Board of Supervisors meeting.   
About the TAC Award
The TAC Award recognizes the most significant contribution of a person or group during calendar year 2022 in advancing or supporting the objectives of the County Transportation Priorities Plan, or for original contributions toward enhancing the quality of transportation in Fairfax County.  At least one member of a nominated group must be an employee of Fairfax County for the group to be eligible.