Current Tysons Comprehensive Plan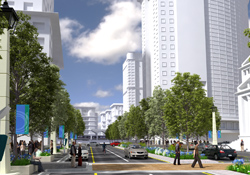 Tysons Comprehensive Plan Amendment Process: 2013-2015
In June 2010, the Board of Supervisors adopted a Comprehensive Plan Amendment for Tysons Corner Urban Center. Virginia law requires each local government to prepare a Comprehensive Plan for the physical development of the territory within its jurisdiction. The Board of Supervisors also adopted twenty follow-on-motions to the Comprehensive Plan Amendment at the time of approval.
The Plan was designed to take advantage of the four new Metro stations coming to Tysons in 2014. By 2050 Tysons will be transformed into a walkable, green urban center. It will be home to up to 100,000 residents and 200,000 jobs in that year. Tysons is envisioned as Fairfax County's "downtown," or a 24-hour urban center where people live, work and play. Three-quarters of future growth will be within a half mile of the stations. Many offices and homes will be a three to six minute walk from the stations, allowing people to get around on foot, bicycle, bus or subway.
The Tysons Plan was developed over several years through an inclusive process of County staff working with a team of consultants, as well as with appointed officials, citizens and other stakeholders. The Plan was also created based on economic, transportation and fiscal analyses.

Background and History of the Development of the Plan
The Tysons Plan received the 2011 Daniel Burnham Award from the American Planning Association. This prestigious award is granted to only one urban plan in the nation each year, for advancing the science and art of planning. Key features of the plan include:
The Board authorized an amendment in 2013 that will reconcile the Tysons plan text and maps with the studies and planning activities that have been completed since 2010. Additional information regarding the Tysons Comprehensive Plan Amendment can be found here.