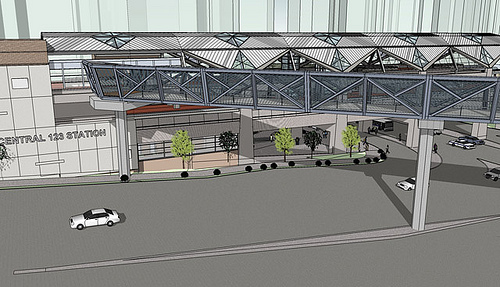 On June 22, 2010, the Board of Supervisors adopted the Zoning Ordinance amendment that establishes the new zoning district for Tysons, the PTC District, Planned Tysons Corner Urban District. Additionally, the Board adopted the Board of Supervisors' Guidelines for Trip Generation Analysis for Rezoning Applications to the Tysons PTC District.
As outlined in the Implementation chapter of the adopted Tysons Comprehensive Plan, regulatory tools are needed to implement the proposed planned mix of uses, intensities, and urban design objectives necessary to transform Tysons into an urban, mixed use, transit and pedestrian oriented community.  The Zoning Ordinance is the primary tool for such implementation.
Staff drafted an amendment to the Zoning Ordinance that would create a new planned development zoning district specifically for Tysons.  The framework of such a zoning district was presented to the Planning Commission's Tysons Committee on November 12, 2009.
On January 12, 2010, the Board of Supervisors directed staff to draft a timeline for adoption of an amendment to the Zoning Ordinance concurrent with the adoption of the Comprehensive Plan Amendment for Tysons so that the County is immediately prepared to receive and process development proposals under the newly adopted Plan.
On March 23, 2010 the Board of Supervisors authorized the following proposed Zoning Ordinance amendment regarding Tysons for public hearing before the Planning Commission on April 21, 2010 and before the Board on June 22, 2010.