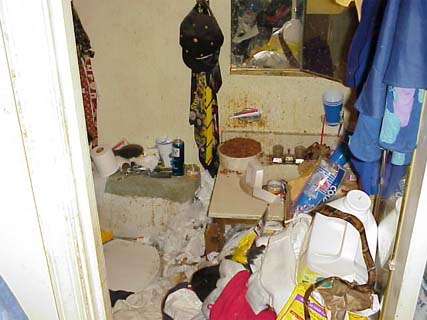 Hoarding is considered to be a mental illness or a medical condition that may require evaluation and treatment.  It may be defined as 'a pattern of behavior characterized by the excessive acquisition, collection, and retention of objects (newspapers, trash, unopened sale items, clothing, paper, rotting food and even animal(s), along with an inability or unwillingness to discard those objects, causing significant distress or impairment.'  Conditions in the home of a hoarder can become so extreme that all available space from floor to ceiling may be occupied and the day-to-day activities, as well as the emergency access, of the home's occupants are impeded.
For suspected hoarding situations in your neighborhood, please contact DCC (Department of Code Compliance) rather than attempting to clean up the house or solve the person's hoarding problem yourself.
If you think a family member might be a hoarder, it is recommended you seek professional help for that person or professional guidance for yourself in handling the situation.
Hoarders are generally unaware that their lifestyle is a problem and rarely seek treatment, and it is difficult to change this type of behavior without professional assistance. Consult a mental health or medical professional, or contact DCC for recommendations and referrals.  For more information on procedures in a possible hoarding case, see the Hoarding Protocol  diagram.