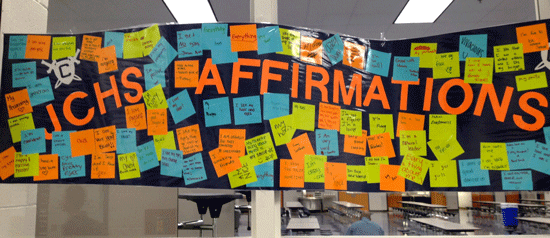 The Fairfax-Falls Church Community Services Board (CSB) has awarded mini-grants for 10 projects, all planned and led by young people, which aim to reduce the stigma associated with mental health issues among their peers. Each of the projects will be implemented by September 30, 2018.
Funding for the CSB's mini-grant program for youth-led projects is from a regional suicide prevention grant from the Virginia Department of Behavioral Health and Developmental Services.
"The purpose of the program is to empower and educate our youth, so that they know how to recognize a mental health concern in themselves or someone else, and won't hesitate to get help," says Jamie MacDonald, Director of CSB Wellness, Health Promotion, and Prevention Services.
The grants were awarded to:
Asian American LEAD, an organization focused on youth leadership and empowerment, will sponsor a "Stress Less Week" at Poe Middle School. Students will research, develop, and implement stress reduction activities and a "pass it forward" positivity campaign in the weeks leading up to standardized testing.
Faith Chi and Elena-Marie Weissenboeck, students at Oakton High School, are forming a Happy Hearts club to promote stress reduction and educate peers about stigma. They will engage peers from the surrounding area to organize a series of awareness activities.
Community Development and Preservation Corporation will implement a "Walk in Our Shoes" project at its Island Walk Summer Engagement Program. The campaign engages youth in sharing real stories from teens and young adults to teach about mental health challenges and mental wellness.
Falls Church High School's Our Minds Matter Club will host a "Stress Less Week" during the week between AP exams and finals. Students will lead a variety of activities to encourage students to stress less and focus on their mental health.
Ramya Griddaluri, a student at Carson Middle School, will develop and implement a campaign, via social media and events, to educate peers on evidence-based facts on the relationship between mental illness and gun violence.
Marshall High School's Student Government Association will be installing a "positive thought board" in the school. Students will be able to put sticky notes on the board to share their thoughts, demonstrating that it is acceptable to think about and articulate your feelings. The SGA will also be placing board games in the school library to promote de-stressing activity.
McLean High School will continue its implementation of Sources of Strength, a best practice youth suicide prevention project designed to harness the power of peer social networks to change unhealthy norms and culture. Sources of Strength aims to increase help seeking behaviors and promote connections between peers and caring adults.
Mountain View Alternative Learning Center students will plan and implement a Mental Health Awareness Week. They will emphasize the prevalence of mental illness, brain science, and how to recognize and cope with mental health problems.
She Rocks the World produces the Virginia Girls Summit each fall at George Mason University, and a number of events and meetings year-round, hosted by the group's 42 teen ambassadors. Events throughout the year will focus on topics related to mental illness and stigma.
Woodson High School's Our Minds Matter Club will launch a campaign called "See Something, Hear Something, Say Something." The campaign aims to raise awareness and remind all students how critical it is to share any information related to mental health concerns, violence to others, or suicidal thoughts with an adult.
"One in every five people in the U.S. experiences a mental health disorder every year," says MacDonald. "Mental health disorders are common and treatable, but people are often reluctant seek help because of the misunderstanding and stigma they may experience due to their diagnosis."
By providing some resources to youth-led projects, the CSB seeks to inspire young people to be the driving force for a positive culture change to eliminate the stigma around mental illness.
Contact Information
Contact for news media inquiries: Lucy Caldwell, Communications Director, 703-324-7006 (office), 703-856-5210 (cell).