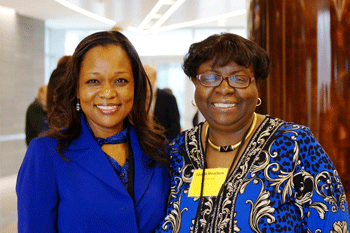 LaVurne Williams, a Site Director in Behavioral Health Outpatient/Case Management for the Fairfax-Falls Church Community Services Board (CSB), has been selected to participate in a year-long leadership program, SystemLEAD, hosted by the Virginia Department of Behavioral Health and Developmental Services. Ms. Williams was one of 25 individuals selected from across the state to participate in this program.
Ms. Williams motivates her integrated team of strong professionals, harnessing her staff's best skills and competencies to work on collaborative goals and uses cutting edge evidence-based practices, data analysis, technology and cross-disciplinary expertise to serve people who need help with tackling serious mental illness, tough substance use and co-occurring disorders.
SystemLEAD is part of a long-term strategy by Virginia's DBHDS of developing and retaining leaders in the field of behavioral health. Williams demonstrates systems thinking and is an effective change-agent in the fast-paced world of providing services and support to people with mental health challenges and substance use disorders.  
The program introduces "natural leaders" like Williams to the continual process of taking personal responsibility to educate, inspire and be proactive with self-education and training. The program involves a workshops, problem-solving exercises, hands-on team projects, research assignments, and online community participation.
Williams is highly regarded by her CSB colleagues. A member of her supervisory team, Nhat Minh Nguyen says that, as a supervisor under Williams' direction, "I feel supported and challenged to excel. She inspires and empowers the people around her."
There is an increasing challenge for public agencies to retain a workforce that provides behavioral health services and advances the field in the mission of supporting individuals by promoting recovery, self-determination, and wellness in all aspects of life.
Learn more about the SystemLEAD program.