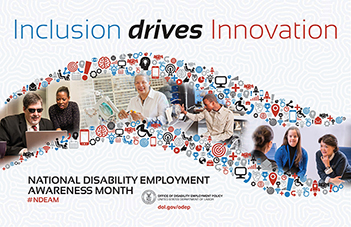 Did you know that Virginia of the four million employed Virginia residents, 179,000 of them are people with disabilities?
The Fairfax-Falls Church Community Services Board (CSB) joins local, state and national partners in observance of October as National Disability Employment Awareness Month. A collaborative effort comprised of private and public organizations, the month is devoted to changing attitudes, educating people about disability employment and acknowledging the vast talents and value that workers with disabilities bring to the workplace.
Fairfax County strives towards being a model employer of people with disabilities by demonstrating that inclusion drives innovation, and that hiring employees with diverse abilities strengthens business and increases competition.
Learn more about services and resources for people with disabilities and job-seeking services in Fairfax County.
Learn more about National Disability Employment Awareness Month and what you can do to make a difference.
Posters and other informational materials are available now.