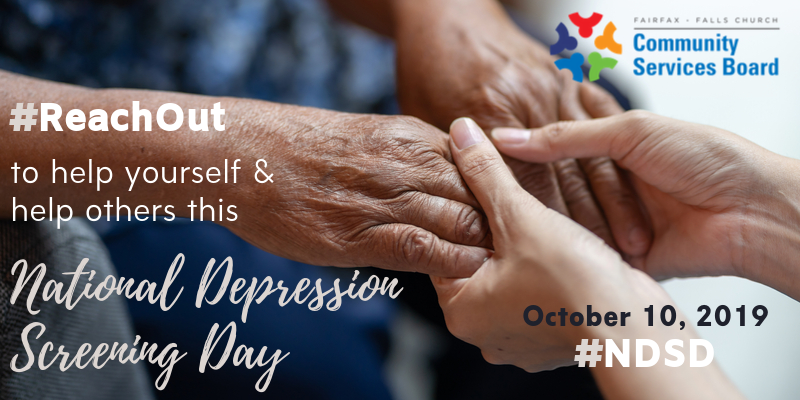 The Fairfax-Falls Church Community Services Board is proud to participate in National Depression Screening Day by providing free, confidential, online screenings for depression and other behavioral health disorders at http://screening.mentalhealthscreening.org/northern-virginia.
Depression affects an estimated 17 million adults in the U.S. during any given year. Of the 300,000 suicides reported each year, about two-thirds are attributed to depression.
But the good news is that depression is treatable and help is available. In fact, about 80 percent of those who get appropriate help for depression see an improvement in symptoms within four to six weeks. The sooner someone seeks help for their behavioral health, typically the easier their recovery is.
National Depression Screening Day, held October 10, 2019, serves as a supportive community initiative to connect the public with behavioral health screenings, help teach individuals signs of depression, and connect those in need with nearby resources where they can get potentially life-saving support.
The online screenings are educational in nature and not diagnostic. They will help someone determine if they are exhibiting symptoms associated with depression or other behavioral health conditions and if they should seek help.
Take a free, anonymous self-assessment.
CSB's Wellness, Health Promotion & Prevention (WHPP) services staff assists the community in strengthening its emotional health and ability to handle challenges related to substance misuse and mental illness. WHPP provides prevention-focused evidence-based training programs, workshops, presentations and health and awareness-raising campaigns. Learn more about our services.
For more information about behavioral health services, contact the CSB at 703-383-8500 (M-F, 9 a.m.-5 p.m., extended hours for youth until 7 p.m. on Tuesdays). In an emergency (24/7), call CSB Emergency Services at 703-573-5679 or the Fairfax Detoxification Center at 703-502-7000, TTY 703-322-9080. Dial 911 for a life-threatening emergency.