The Fairfax County Commission for Women (CFW) advises the Fairfax County Board of Supervisors on policies and initiatives to promote gender equality, eliminate violence against women, and honor women and girls in Fairfax County.
The Commission for Women (CFW) is affiliated with the Fairfax County Domestic and Sexual Violence Services (DSVS). DSVS employs a liaison to coordinate Commission activities and fulfill the project obligations of the Commission.
Learn about CFW's upcoming and past meetings.
---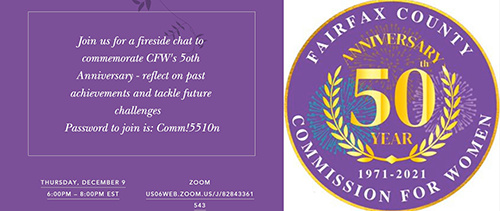 Happy Anniversary, Commission for Women!
Join the Fairfax County Commission for Women at a fireside chat as they commemorate the Commission's 50th anniversary, reflect on past achievements and tackle future challenges.
Thursday, Dec. 9, 2021
, 6-8 p.m.
Zoom:
US06WEB.Zoom.US/J/82843361543
Password: Comm!551On
---
Fairfax County Channel 16 Video - Turning Point Suffragist Memorial Association
---
Commission for Women's Biennial Report FY2020-2021*
*Fairfax County is committed to nondiscrimination on the basis of disability in all county programs, services and activities. To request reasonable accommodations or to receive this information in an alternate format, call 703-324-9498 or TTY 711.