(Posted 2020 August)
Struggling with the challenges of 24/7 parenting? The Parenting Education Programs staff has found that Virtual Parent Cafés are a great way for parents to learn from each other as they grow in their parenting skills. All Parent Cafés are open to Fairfax County parents or guardians with children ages 0-18 years old.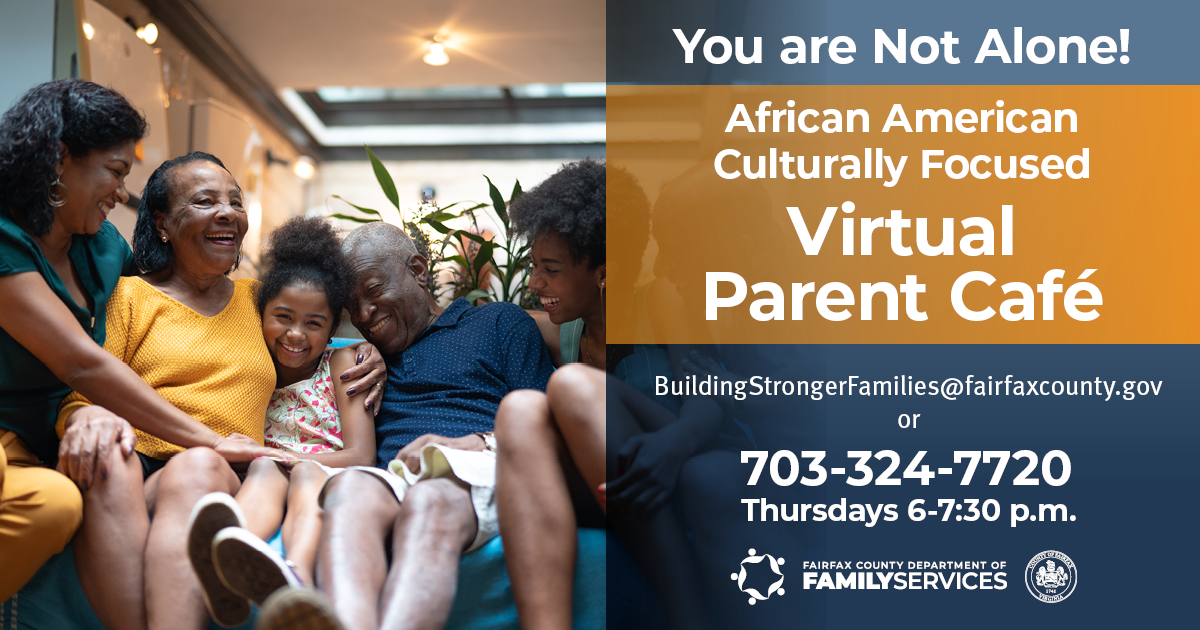 Created as a tool to help parents find support and prioritize self-care during the COVID-19 pandemic, the first Virtual Parent Cafés took place in April of this year. During a typical meeting, the Parent Café is moderated by one or more staff members who lead the discussion while allowing parents to problem solve around a variety of topics such as routines, self-care, discipline, praise, expectations, and social media.
If this sounds helpful to you, then you are not alone. Interest has grown throughout the community since the program started, and in July a weekly Spanish language Parent Café was started.
In addition, a new African American Culturally Focused Virtual Parent Café will be launched on Thursday, Sept. 10. Moderators, Natalie Bailey and Lisa Payne Chesley expressed excitement at the opportunity to bring another method of parenting support to the community.
Interested? To sign up, please email or call us at 703-324-7720 to register at least one business day before the Parent Café.
Virtual Parent Café Schedule
Mondays 7:45-9:15 p.m. for English-speaking families
Wednesdays 7-8:30 p.m. for Spanish-speaking families
Thursdays 6-7:30 p.m. for African American Cultural Focus
We look forward to you joining us! Learn more about how Virtual Parent Cafés provide a community of support to parents.
---
This posting is part of the Department of Family Services' Community Corner where you'll find timely information about upcoming events, parenting and wellness tips, programs and services, and more! Share these helpful posts with your friends and family. Don't miss out on future postings; sign-up today!