The Fairfax County Health Department has announced the winners of its 14 Carrot Gold Food Safety Excellence Award for 2020.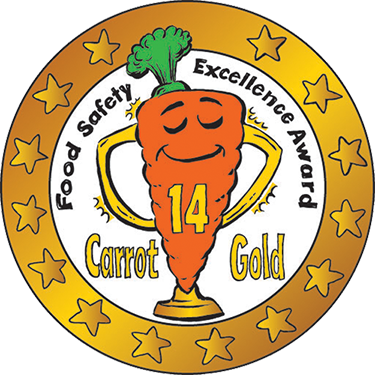 Nine local food service operations, including two schools, a church, a supermarket, a health center, a café, two restaurants and a family-owned catering company, are being recognized for maintaining outstanding food safety practices and employee education. This year's winners were selected from the more than 3,800 permitted establishments inspected each year by environmental health specialists with the Health Department.
The 2020 recipients of the Fairfax County Health Department's 14 Carrot Gold Food Safety Excellence Award are:
Bestway Supermarket, 5695 Telegraph Road, Alexandria
Burke Health Care Center, 9640 Burke Lake Road, Burke
California Shabu Shabu, 3081 Nutley St., Fairfax
Columbia Baptist Church, 103 West Columbia St., Falls Church
Fairfax Food Service & Caterers, 8352 F Terminal Road, Newington
GMU – Panda Express, 4400 University Dr., Fairfax
Poe Intermediate School, 7000 Cindy Lane, Annandale
Poplar Tree Elementary School, 13444 Melville Lane, Chantilly
Potomac River Café, 1875 Explorer St., Reston
"The 14 Carrot Gold award recognizes food service facilities that place a high importance on food safety practices and policies," said Environmental Health Director Pieter Sheehan. "While every food service facility is required to meet minimum food safety requirements, these nine establishments are to be commended for going above and beyond to safeguard their patrons from the risks of foodborne illness."
In receiving the award, Brandon Draughon with Fairfax Food Service & Caterers said: "Because our customer base is over 6,000 children, we keep an eye on our food safety practices 100 percent of the time."
Many of this year's recipients also place an emphasis on minimizing food waste by making donations to food banks and other charities, noted Sheehan.  
"Watching food waste is an important factor in the overall food safety practices at the church," said Douglas Cook with Columbia Baptist Church.
Food service establishments can be nominated for the 14 Carrot Gold award by members of the food service industry, the public, or from health inspectors. An awards team from the Fairfax County Health Department reviews the nominations and selects winners. Awardees receive a plaque and recognition in the department's newsletter and on its website.
To be eligible for consideration, recipients of the 14 Carrot Gold awards cannot have any critical violations during inspections conducted in the last 24 months, and no more than six non-critical violations in the past year. The facility must also have a valid permit to operate and be in good standing with the Health Department.
The department's Environmental Health division conducts over 9,200 site visits annually in Fairfax County and the cities of Fairfax and Falls Church.  Health inspectors look for potential risk factors that contribute to foodborne illness, such as an unapproved food source, poor food employee hygiene, improper cooking temperatures, inadequate cold and hot holding of food, and cleanliness of food contact surfaces.
The department also reviews food establishment plans; responds to customer complaints and inquiries; investigates foodborne illness outbreaks to determine the source and to minimize the spread of disease; provides food safety information to consumers; and holds food safety trainings and workshop for operators.
For more information about the food safety program or to review inspection reports, visit www.fairfaxcounty.gov/health/food or call 703-246-2201, TTY 711.
Contact Name
John Silcox, Communications Director