More than 600 people working at skilled nursing facilities in Fairfax County got their flu shot this month as part of a vaccination exercise conducted by the Health Department.
Nine skilled nursing facilities participated in the exercise, which served two purposes: to increase vaccination rates among skilled nursing facility staff who work with clients who are particularly susceptible to flu and its complications, and to test the health department's emergency response capabilities for a potential flu pandemic.
The event took place on Oct. 17 and 18 and was coordinated by the health department's Office of Emergency Preparedness and Response. Teams from the health department, George Mason University's nursing program, and the Fairfax Medical Reserve Corps visited five facilities to provide flu vaccines to employees on-site. Four other facilities were given vaccine to administer to their staff, contractors and volunteers.
Skilled nursing facility residents are particularly at risk for severe flu due to their age and underlying illnesses. Vaccinating persons who care for these individuals reduces the risk that a healthcare worker would become ill and transmit infection to the high-risk residents, said Dr. Benjamin Schwartz, Director of Epidemiology and Population Health.
"This point-of-dispensing drill was a great opportunity for the Health Department to test our ability to give vaccine in an efficient and timely manner while providing free shots to protect against the flu," Schwartz said. "We are very grateful to our partners who participated in this valuable exercise and understand the important role they play in preventing the spread of flu in our community."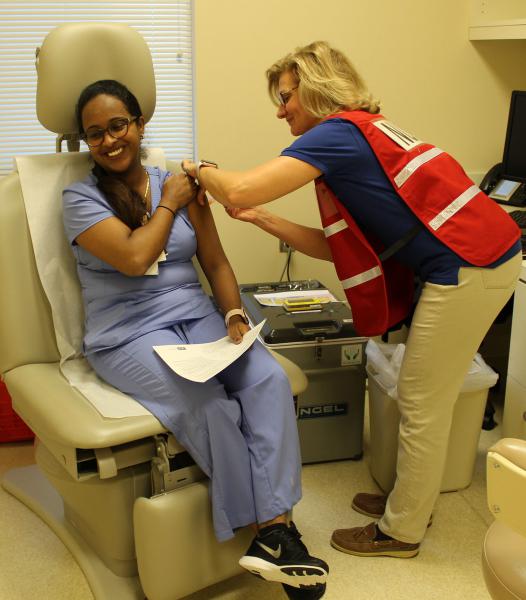 The flu vaccine was provided by the Virginia Department of Health for use in this exercise. The nine facilities that participated included:
Burke Health & Rehabilitation.
Dulles Health & Rehabilitation.
Goodwin House Bailey's Crossroads.
Leewood Healthcare Center.
ManorCare Fair Oaks.
Mount Vernon Healthcare Center.
Powhatan Nursing Home.
Sleepy Hollow Healthcare Center.
The Virginian.
Flu is a contagious respiratory illness caused by a virus. People who are sick with the flu will often experience symptoms such as fever, cough, sore throat, body aches, headaches and fatigue. Most people who get flu will recover in a few days to less than two weeks, but some people will develop complications (such as pneumonia), which can be life-threatening and result in death.
Anyone can get sick with flu (even healthy people), and serious problems related to flu can happen at any age, but some people are at high risk of developing serious flu-related complications if they get sick. This includes people 65 years and older, people of any age with certain chronic medical conditions (such as asthma, diabetes, or heart disease), pregnant women and children younger than 5 years, but especially those younger than 2 years old.
The U.S. Centers for Disease Control and Prevention recommends everyone age 6 months or older get a yearly flu vaccine. Flu vaccine is widely available in the community, including at all five Health Department clinics in Fairfax County. Other vaccines for children and adults, including for foreign travel, are available too for a fee. For faster service and shorter wait times, please call for an appointment.
Learn more about flu prevention at www.fairfaxcounty.gov/health/flu.
Contact Name
John Silcox, Public Safety Information Offier