Springfield Academy earns praise for efforts to protect the health and wellbeing of children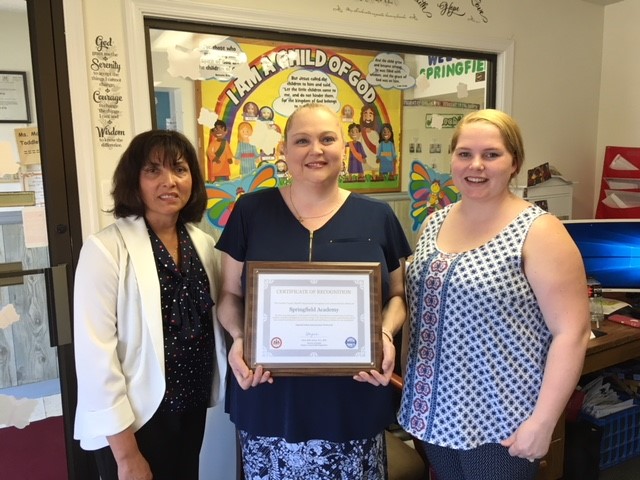 For their contributions to protecting health and well-being of children in our community, Springfield Academy was recognized by the Fairfax County Health Department today as part of its National Infant Immunization Week activities. Watch the recognition event on Facebook.
National Infant Immunization Week (NIIW) is an annual observance to highlight the importance of protecting infants from vaccine-preventable diseases and celebrate the achievements of immunization programs and their partners in promoting healthy communities. Since 1994, hundreds of communities across the United States have joined together to recognize the critical role vaccination plays in protecting our children, communities, and public health.
Springfield Academy's compliance with state immunization requirements earned them congratulations from the Health Department. The family owned and operated school requires an up-to-date immunization record for every enrolled child every six months until the child is 2 years old. After age 2, the school requires updated records at the beginning of the year and includes reminders in its monthly newsletter.
"When parents know it is a common practice within the school and are held accountable many times we do not even have to request the documents as they just automatically get a copy for us at the child's well check appointments," said Angela Todd, Administrative Support Professional.
In celebration of NIIW, the Health Department and its community partners participated in these additional activities:
Each District Office is giving gift bags to the parents of infants who are immunized in our clinics this week; gift bags include a sippy cup, a bib, and an educational handout on the immunization schedule; and
Christine Carlock, RN, the Health Department's Immunization Action Plan Coordinator, performed a puppet show for the Main Street Child Care Development Center, 4401 Sideburn Road, Fairfax, as a fun way for kids to learn about the importance of immunizations; and
Children at the Fairfax KinderCare, 9749 Main St., colored pictures to show why vaccines help give them a healthy start in life.
"Young children rely on the champions in their lives to keep them safe and healthy," Carlock said. "We commend Springfield Academy, KinderCare and the other businesses, community-based organizations and service groups who ensure all children are fully protected from vaccine-preventable diseases through immunization."
"Vaccines are the most successful and cost-effective public health tool available for preventing disease and death. They not only protect individuals, but they protect entire communities by preventing and reducing the spread of infectious diseases."
For more information on immunization services available at the Fairfax County Health Department, visit https://www.fairfaxcounty.gov/health/immunization. For more information on NIIW, go to www.cdc.gov/vaccines/events/niiw.
###
Contact Name
John Silcox, Public Safety Information Officer
Contact Information
john.silcox@fairfaxcounty.gov
703-246-8634