Environmental health specialists from Fairfax County are among those being deployed to the U.S. Virgin Islands to assist with the long-term recovery efforts from hurricanes Irma and Maria.
Virginia will send two Environmental Health strike teams to the islands this weekend. The teams, deployed through the Virginia Department of Emergency Management and the Emergency Management Assistance Compact (EMAC), also include specialists from Virginia Department of Health and Henrico, Roanoke, Three Rivers and Alexandria health districts. The group from Fairfax includes five environmental health specialists, including one who is also a registered nurse.
The deployment is in response to an EMAC request from the Virgin Islands for strike teams to assist with identifying, monitoring, assessing and mitigating environmental health hazards. Members of the teams are expected to depart for the islands of St. Thomas, St. John, and St. Croix on Feb. 11 and return on Feb. 27.
Working with local officials, the teams will conduct inspections of food service establishments and other regulated facilities and provide education on environmental health and sanitation issues on the islands.
Environmental health specialists have been deployed before to assist with critical public health issues like food and water safety during emergencies, but this is the first time a team from Fairfax has been activated.
"We are excited and honored to be able to provide assistance to areas affected by those devastating storms," said Dr. Gloria Addo-Ayensu, Fairfax Health Director. "I want to thank the members of our team for their compassionate service. I know they will provide to the residents and visitors of the U.S. Virgin Islands the same professionalism and high quality service to which the citizens of the Fairfax have come to expect.
"We wish them a safe and successful journey."
More information on this deployment can be found at the Virginia Department of Emergency Management.
---
Team Composition, with Fairfax County members highlighted: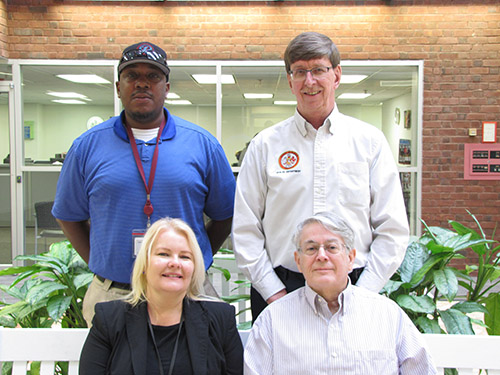 St. Thomas/St. John District Team
John Yetman (Fairfax County Environmental Health Supervisor)
Lois Maisel (Fairfax County Environmental Health Specialist)
Ebonie Miller (Fairfax County Environmental Health Specialist)
David Geeson (Office of Environmental Health Services Environmental Health Manager)
Monae Holifield (Chesapeake Health District Environmental Health Specialist Sr.)
Kirsten Dobson (Richmond City Health District Environmental Health Specialist Sr.)
Todd Grubbs (Office of Environmental Health Services Environmental Heath Coordinator)
St. Croix District Team
Deborah Hoy (Office of Drinking Water Environmental Health Consultant)
Jerene Beyer (Henrico Health District Environmental Health Specialist Sr.)
Isaac Robertson (Fairfax County Environmental Heath Specialist)
Ron Campbell (Fairfax County Environmental Health Specialist Sr.)
Kendra Washington (Alexandria Health District Environmental Health Specialist Sr.)
Tiffany Johnson (Alexandria Health District Environmental Health Specialist)
Contact Name
John Silcox, Public Safety Information Officer