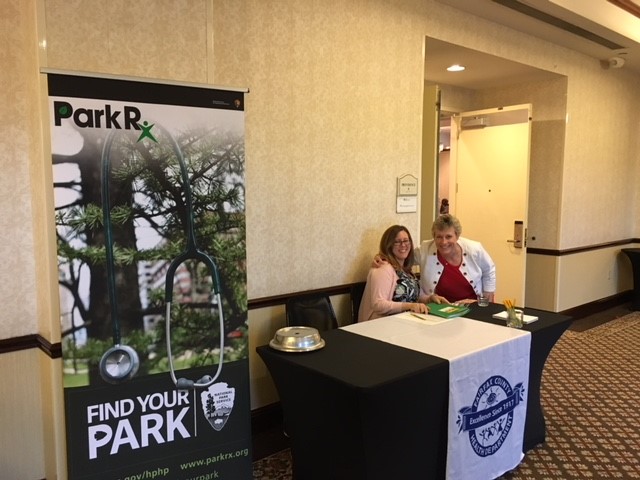 Local health care providers learned how to integrate a food and parks prescription program into their practices to help their patients achieve better health at a conference hosted by the Fairfax County Health Department.
The event, Rx for Life, was held on May 24 at the Hilton Garden Inn in Fairfax and featured two of the leading experts on parks prescribing and food insecurity: Robert Zarr, MD, Founder and Medical Director for Parks Rx America, and Kofi Essel, MD, attending physician with the Children's Health Center in Anacostia and Assistant Professor of Pediatrics at George Washington School of Medicine and Health Sciences.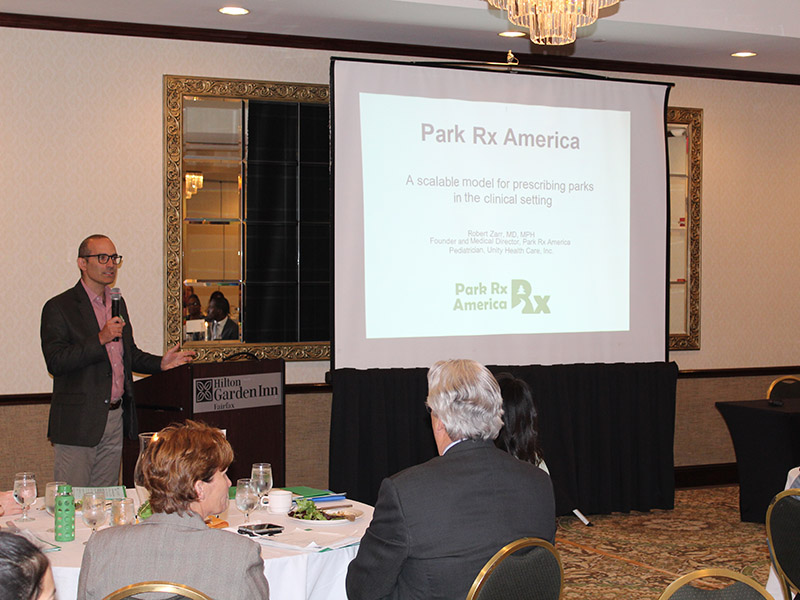 Dr. Zarr discussed how viewing and spending time in nature can improve mental and physical wellbeing by lowering blood pressure, reducing stress and anxiety, and boosting attention and physical activity. His presentation made it easy for attendees to start prescribing nature to their patients in real time during routine office visits.
Dr. Essel explained the use of a screening tool called Hunger Vital Signs to identify patients who experience food insecurity and recommend interventions to improve their nutrition, physical and mental health. One in six children in the U.S. lives in a food-insecure household, which means there is limited or uncertain access to enough food. His presentation showed attendees how to implement an Rx for Food program in their practice and connect patients to local food resources and programs.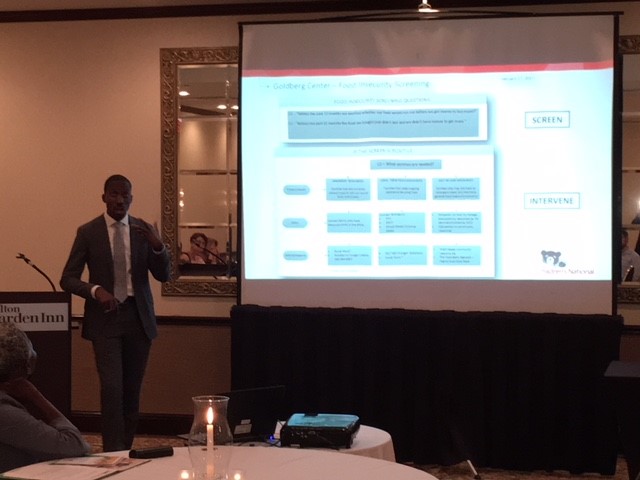 "We need new approaches if we are going to reduce the burden of chronic disease in our communities, and the parks and food prescribing programs are just what the doctor ordered," says Fairfax Health Director Gloria Addo-Ayensu, MD, the event sponsor. "We are so grateful to our expert panelists and to our local providers for making time for this important event."
Other panelists included: Kirk Kincannon, Executive Director of the Fairfax County Park Authority; Cindy Walsh, Resources Management Division Director with the Fairfax County Park Authority; Annie O'Neill, Outdoor Recreation Planner with the National Park Service; Matthew Scribner, Chief Technology Officer with Park Rx America; Terri Siggins, Project Manager for the Fairfax Food Council; Carmen Gill Bailey, Fairfax County Health Department School Health physician; Annie Turner, Executive Director of Food for Others; and Cecelia Vergaretti, Senior Director of NOVA Region Capital Area Food Bank.
Attendees could earn Virginia Commonwealth University continuing medical education credits.
For more information on prescribing parks, visit ParksRx. To learn about other community health initiatives in Fairfax County, go to www.fairfaxcounty.gov/health.
Contact Name
John Silcox, Public Safety Information Officer