Attention Deficit Hyperactivity Disorder (ADHD) is a disorder that makes it difficult for a person to pay attention and control impulsive behaviors, be restless and almost constantly active. That's a description from the National Institute of Mental Health. But most parents of kids with ADHD would have a more specific take on it:
"She can't wait for her turn when we are playing a game."
"My child can't sit still at school. She doesn't listen to the teacher."
"ADHD makes it hard for them to stay organized and remember their assignment."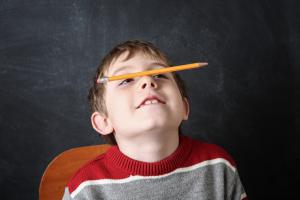 Many clients treated by our speech-language pathologists have ADHD. Here are some things parents should know about ADHD and how speech-language therapy might help:
ADHD is not a diagnosis of "can't": Many parents think of ADHD as a limitation that prevents their child from being successful at school or elsewhere. And, while it certainly can get in the way of learning, it does not need to be a roadblock to their success. "Kids with ADHD can and do learn. They just might need different techniques," said Vinnie Bhalinge, Speech-Language Pathologist, Fairfax County Health Department. "For example, to get a child's focus on their speech work, I might ask them a question, throw them a ball, and when they catch the ball, they answer. This technique incorporates physical movement into their learning." Vinnie also said maintaining established routines and closing on one activity before moving to another also helps children focus. 
Building social skills is key to success with ADHD: Some children with ADHD might need help with social skills, such as how to engage with others, take turns, or how to better understand social situations. Speech-language pathologists can help. "We do a lot of role play to teach social skills. I will get out a pirate ship toy, for example, and we will role play with the pirates. The child will learn about how to give and ask for directions, sequencing, and more. I might remind them that they must respond to me when I talk to them, and vice-versa," Vinnie said. 
Staying organized is tough – but not impossible – when you have ADHD: There are a myriad of techniques one can use to stay organized. Checklists, planners, reminders, and more. A speech-language therapist can work with a student and their teacher to help create a more organized environment that will lead to their success.
Parents can learn more about the signs of ADHD on the American Speech-Language-Hearing website. If your child has an ADHD diagnosis and they need assistance with communication, learning patience or getting organized, we might be able to help. Call us to talk with one of our therapists to determine if we might be able to assist you.
Remember: October is ADHD Awareness Month. Know the facts about ADHD.
Vinnie Bhalinge is a speech-language pathologist with the Fairfax County Health Department. She has treated both kids and adults on issues such as language disorders, social communication disorder, articulation, swallowing, cognitive linguistic functioning, aphasia, dementia, dysarthria, tongue thrust, voice and stuttering. She has 20+ years of experience and is a multilingual clinician fluent in Hindi and Marathi.