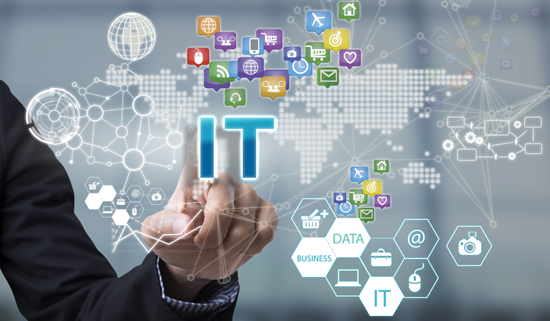 The
Department of Information Technology (DIT)
contributes to an efficient and productive County government while using modern information technologies to improve citizen access to government information and services. To give focus and direction to staff within the department and to help plan for the future, an
overall mission has been established together with eight goals
.  These goals promote innovation, support County services, energize overall technology investments' performance, develop and maintain information technology systems, and provide secure, agile and sustainable technology infrastructure and customer service support to County agencies.
The department is organized into IT discipline subject matter expert groups:
Application Solutions that support enterprise-wide systems, technical support for ERP system management, the document management platform, Customer Relationship Management (CRM) platform, Web and GIS systems used by all agencies as well as certain agency specific business application development and support.
E-Gov/Public Access program  provides architectural direction, standards, and strategies for on-line applications and technology programs including web, mobile applications, IVR, Social Media and systems and information interoperability architecture.
The Technology Infrastructure divisions (Platform Technology Division and Communications Technology Division) manage server and storage hardware environments, middleware integration tools, communications and network platforms, enterprise messaging applications, desktops and end-user devices, the network based digital multi-function printing devices (MFD) that support County-wide distributed printing, print-on-demand, electronic transfer of printed information, and the IT Service Desk.
The Information Security Office (ISO) monitors, investigates and performs compliance activities to ensure County IT assets are safeguarded.
Project/Portfolio Management Office (PMO) manages the IT Projects Portfolio, assists with planning and fiscal oversight and is responsible for providing direction to assure consistency with established fiscal and budgetary requirements and procurement standards. The PMO processes are designed to ensure that projects are in compliance with the County's IT standards, project management requirements as well as the mission and mandates established by the Board of Supervisors and the Senior IT Steering Committee.
The Policy, Planning and Administration group provides technical competence to develop and execute a county-wide information strategy to facilitate short and long term information policy development; and to coordinate the administrative execution of agreed-upon policies and plans.
A specialized Courtroom Technology Office that coordinates the implementation and support of modern courtroom technologies for the three Fairfax County Courts (Circuit, General District, and Juvenile and Domestic Relations), and serves as the liaison with the State Supreme Court for technical solution and data interoperability.
The Archives and Records Management provide overall electronic records management and policy development for the county.