Learn how service and therapy dogs support humans in need. 
---
By Donna Heneberry, Assistant Circulation Manager, Reston Regional Library
---
Service Animals
Have you ever seen dogs wearing red vests in the library or another public space? Those red vests denote a trained service animal, or one that is in training. From police K-9s and search and rescue dogs, to guide dogs for the vision impaired and medical alert dogs for patients with a number of illnesses, these hardworking dogs help people by providing assistance, support and companionship.
Training for these important tasks can take 18 to 24 months. Any breed can be trained, but the individual dog must have the right temperament for training to be successful. The dog must be calm in any situation, be willing to please, be able to focus on its owner no matter what distractions are around it, and be intelligent enough to learn many different jobs.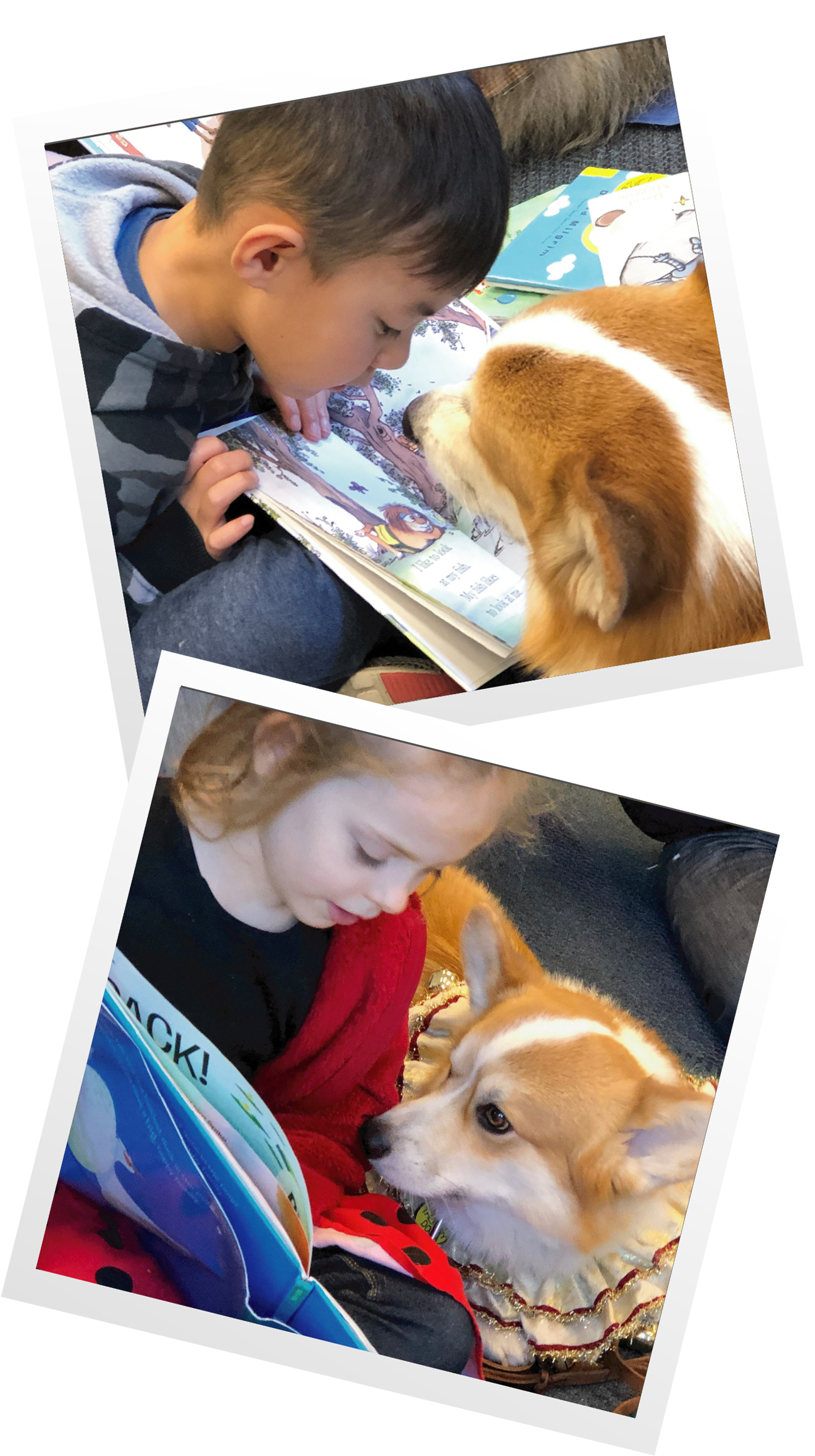 Service dogs are trained to do specific tasks that enable their owner to handle their disabilities more easily. The Americans with Disabilities Act (ADA) has set rules spelling out what constitutes a service dog and enumerated the rights of service animal owners that businesses and landlords must obey.
Therapy Dogs
Therapy dogs are used to provide comfort and unconditional acceptance to people in stressful situations. They differ from service animals in that their training is less specialized — although no less rigorous  — and they help in more generalized ways than the job-specific service animals. 
Some libraries, including FCPL during normal operations, host Read to the Dog programs in which therapy dogs sit quietly and provide a calm, non-judgmental presence for which children who may be struggling can practice reading aloud. The dog doesn't care if the child stumbles over a word or reads slowly — they are always happy to sit and listen! Nursing homes, assisted living centers, schools and other facilities also use therapy dogs to provide comfort and gentle stimulation. 
Training and Ownership Resources
The library offers many books and DVDs on dog training, and FCPL staff can help you seek out reliable sources on acquiring a service animal or learning about legal issues related to owning and training service or therapy animals. The following books and DVDs provide a great starting point on these topics.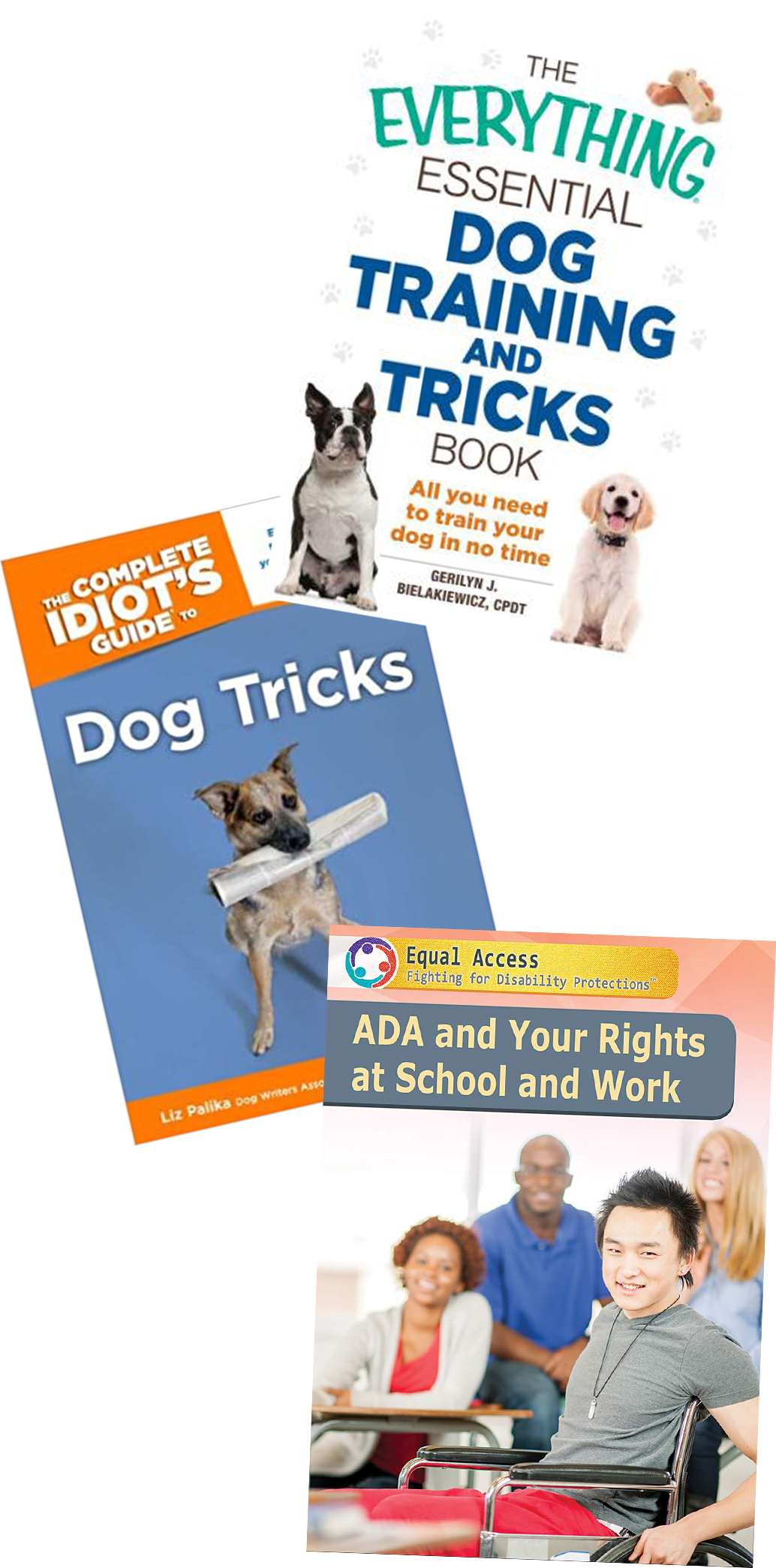 Dog Training
The Everything Essential Dog Training and Tricks Book by Gerilyn J. Bielakiewicz
The Dog Whisperer: Beginning and Intermediate Dog Training (DVD)
The Complete Idiot's Guide to Dog Tricks by Liz Palika
Therapy Dogs: Training Your Dog to Reach Others by Kathy Diamond Davis
Rights and Responsibilities of Service Animal Owners
Your Rights in the Workplace by Sachi Barrerio
Renters' Rights by Janet Portman
Every Landlord's Legal Guide by Marcia Stewart
Americans With Disabilities Act
ADA and Your Rights at School and Work by Kerry Elizabeth Benson
Disability Rights, Benefits, and Support Services Sourcebook edited by Angela Williams
The Essential Guide to Federal Employment Laws by Lisa Guerin