Community Branch Hours:

703-978-5600 | TTY: 711
The Kings Park Library first opened in October 1972. In June 1993 a renovated and expanded building reopened. Kings Park, a busy community library, is known for its experienced and welcoming staff, enthusiastic customers, and large volunteer force. The library has a collection of over 120,000 items including magazines and newspapers, and audio and visual materials. Our dedicated staff presents a wide range of quality programs for preschool children and their parents/caregivers, book discussion groups for school-age children and their parents, teens and adults, and other special programs throughout the year.
The Friends of the Kings Park Library generously supports branch programming and provides funding for materials, furnishings, and other branch needs through their on-going and semi-annual book sales. When you visit, enjoy our beautiful stained glass windows and inviting outdoor space, including a butterfly garden and native plants, maintained by a dedicated group of volunteer gardeners. With the office of the Braddock District Supervisor sharing the building space, Kings Park Library is a focal point of the community.
Kings Park Library Events
Your Kings Park Library staff is committed to providing programs and events that appeal to all members of our community.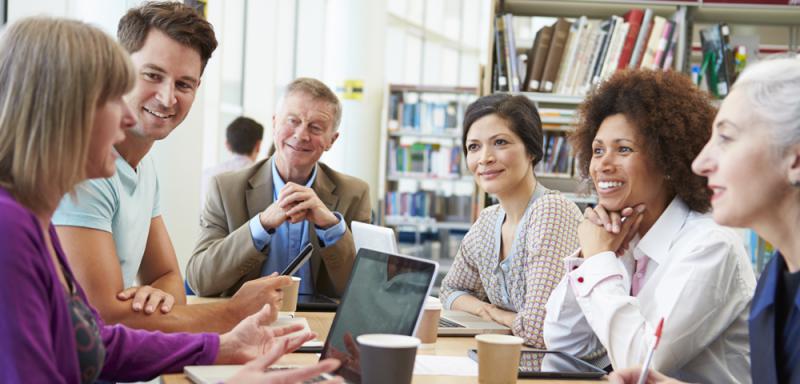 Branch Contacts
Branch Manager: Helen Ignatenko
Board Trustee Member: Brian Engler—Braddock District
Volunteer Coordinator: Carolyn Norton (find volunteer opportunities at Kings Park)
Friends Group President: Bruce Wallachy
Available Facilities
Access Services: One computer with ZoomText software
Display Cases: Two
Book Sale: Ongoing.
Large book sale annually.
Meeting Areas
Reservations can be made for regular hours and extended hours.
(Number of chairs limited, call branch to check availability)
Meeting Room: capacity 142
Conference Room : 15
Quiet Study Room: Yes
Branch Services
Internet Access: 12 Internet stations with Microsoft Office plus wireless access is available.
Parking: 140 parking spaces, 5 handicapped
Languages Spoken
Please call the library to see when the foreign language speaker is available. Chinese, Hindi, Korean, Marathi, Telugu.
Phone Menu
703-978-5600
1: Hours of operation and directions
2: Information about your library record or to renew a book
4: Help with a reference question, to check on the availability of a specific title or to sign up for a program
5: Management directory
Library-Affiliated Organizations
Friends of the Kings Park Library
Architect
Original: Saunders, Pearson and Partners of Alexandria
Renovation: Hughes Group
Kings Park Library Events