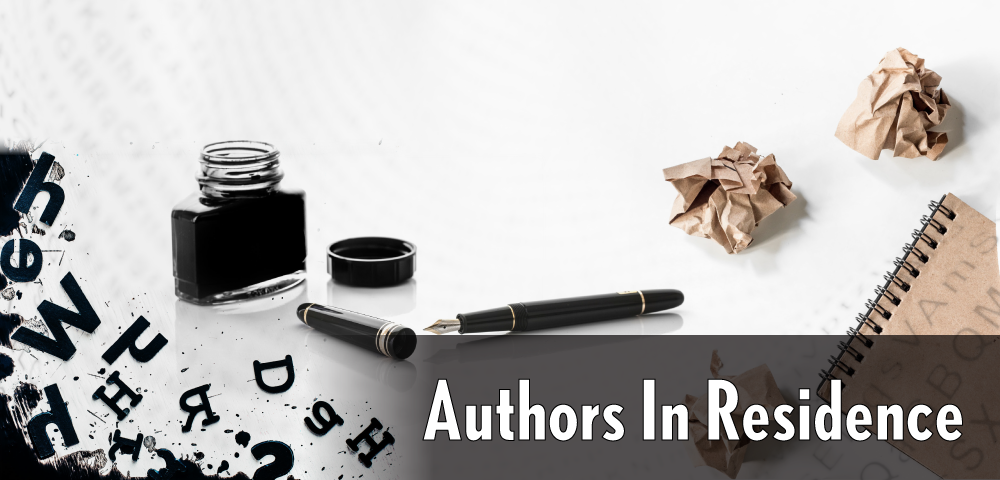 ---
By Ashley Atkinson, Marketing and Communications Specialist
---
At Fairfax County Public Library (FCPL), meeting an author can be as easy as walking in the door. It is no surprise that the people who work at FCPL love books and the written word; some so much that they are, themselves, published authors! From novels to nonfiction, book reviews to articles for magazines or academic journals, the works of FCPL staff authors range a wide variety of interesting topics and are available for anyone to read.

Learn more about just a few of FCPL's many "authors-in-residence" and find out where you can find their work.

Luis Aponte
Centreville Regional Library
An information services librarian, Luis is a published author of several technology-based eBooks to help people gain technology literacy through easy, illustrated step-by-step instructions. The eBooks are available on various sites, including LuisTheLibrarian.com. Luis is also the author of multiple articles published in academic journals including Florida Libraries, as well as Education, both of which can be accessed using FCPL's Academic Search Complete database.
Luis's newest works include A Safe Place: Imagining Schools Without Gun Violence and The Ultimate U.S. School Shooting Reference Guide. A former student of Marjory Stoneman Douglas High School in Parkland, Florida, he felt emotionally and morally compelled to write both books following the deadly 2018 shooting at the school. More information about Luis's latest work can be found at ASafePlaceBook.com.

Chris Barbuschak & Suzanne S. LaPierre
Virginia Room
Chris and Suzanne are part of FCPL's team of history experts at the Virginia Room, which is located inside City of Fairfax Regional Library. Together, they have released Desegregation in Northern Virginia Libraries, an in-depth look at the effort to integrate local libraries by citizens-turned-activists in Fairfax and surrounding counties. The book explores the hard truth about the barriers imposed on the Black community, as well as the inspiring stories of the civil rights advocates who used protests and lawsuits to achieve more equitable library services. The book is available for checkout through bit.ly/FCPL_DesegregationInNoVaLibraries or can be purchased online from Amazon.
In addition, Suzanne writes "The Wired Library" column for Public Libraries Magazine, the bi-monthly publication for the Public Library Association. She is also the author of essays published in the 2022 and 2023 editions of The Library and Book Trade Almanac.

Sunny Carito
Pohick Regional Library
Before coming to FCPL's Pohick Regional branch where she serves as a part-time youth services librarian, Sunny worked in audiobook production as a studio engineer and audio editor. Even today, she still edits audiobooks in her spare time. Utilizing her experiences working with audio production, Sunny has a unique perspective when it comes to audiobooks, a perspective she shares as an audiobook reviewer for AudioFile Magazine. For the past five years, she has written an average of two reviews per month for the magazine, focusing mainly on middle grade chapter books; fantasy, realistic fiction, horror and mystery books for young adults; and adult memoirs and mysteries. Sunny's reviews can be accessed using the FCPL's MasterFILE Complete database or on AudioFileMagazine.com.

Britni Cherrington
Kingstowne Library
As branch manager of FCPL's Kingstowne branch, Britni works with library users of all ages. For most of her career, however, she has worked with teens and tweens and has developed a passion for advocating for this age group in libraries. Following this passion, Britni has written two academic journal articles related to youth services in libraries. These include "Tweens: Making Space in the Library," which was published in Voice of Youth Advocates and "Advocating for Teens in Public Libraries," which was published in Young Adult Library Services. The latter article can be read using FCPL's Academic Search Complete database.
Dianne Coan
Technical Operations
As Director of FCPL's Technical Operations, Dianne and her team handle the day-to-day business of acquiring new books and managing the existing book collection. As part of her job, Dianne noticed the high prices libraries were facing to purchase audiobooks and sought to discover more about the impacts the pricing was having on public library systems. What became of Dianne and several other likeminded librarians' efforts was an article entitled "Digital Audiobooks in Public Libraries: A Current Assessment," published in Computers in Libraries. Dianne's article, as well as a collection of other Computers in Libraries articles, can be accessed using FCPL's ProQuest database.
Sondra Eklund
Technical Operations
Another member of FCPL's Technical Operations team, Sondra has been working at libraries for more than 20 years! In that time, she has been exposed to many wonderful books and sought a way to share her favorite reads with others. Sondra started her review website SonderBooks.com as an email newsletter in 2001 and it has been growing ever since. Today, she estimates she has more than 3,000 reviews published on books for readers of all ages. In addition to her reviews, Sondra has also been working on a book about Psalms and is currently searching for a publisher.

Laurel Jackson
John Marshall Library
Laurel has been writing long before she became an information assistant at FCPL's John Marshall branch. She began submitting her work for publication in 2018 and since then, she has had many short stories published, as well as two novels. Her debut novel, That Distant Dream, takes the kernel of a story Laurel wrote in eighth grade and crafts it into a mix of military space opera and fantasy novel that is the first in her Satura trilogy. Laurel's second book, Evie and the Pack-Horse Librarians, is a standalone fantasy novel that follows a city mouse assistant book editor exiled to the countryside to become a pack-horse librarian.
Additionally, Laurel's short story, "The Hidden Language of Flowers," which was published in the anthology, Misspelled: Magic Gone Awry, was also featured in Neon Hemlock's We're Here: The Best Queer Speculative Fiction 2021. Information about all of Laurel's works can be found at linktr.ee/thesuspectedbibliophile.

Alex Kenny
Burke Centre Library
Alex's debut as a published author came in college when he was a student at George Mason University (GMU). There, in his first memoir writing class, he wrote a story about meeting James Brown and his time as a "professional" dancer. Titled after the similar James Brown lyric, the story "In Order to Get Down, I Gotta Get In D," was later published in the anthology Stories for the Ages: College Edition 2017 which is available on Amazon. During his college years, Alex also authored a series of humorous articles for Fourth Estate, GMU's campus newspaper which can be found online at GMUFourthEstate.com. Alex's most recent work is a contemporary romance novel titled SomebodyToLove.com. He is currently looking for a publisher.

Tine Kristensen
Centreville Regional Library
With a degree in history and philosophy, it is understandable that Tine's passion for writing falls into the nonfiction category. Written in her native Danish, Tine's published works include many articles for the history magazine, Alt om Historie. Topics she covered for the magazine include the start of Denmark's public school system, as well as a piece on the only Danish civil war, known as the "Grevens Fejde." Tine has also written for one of Denmark's oldest academic publications, Personalhistorisk Tidsskrift. Her chapter in the compilation is about Elna Munch, one of the first women elected to the Danish parliament. Tine is also considering writing a book or article about the sale of the Danish Virgin Islands to the United States in 1917.

Lauren Williams
Technical Operations
Yet another of FCPL's Technical Operations authors, Lauren's past career was with Fairfax County Public Schools (FCPS). During this time, she co-authored an article in Science and Children, a bimonthly journal from the National Science Teaching Association. The article, "Bringing Antarctica Home: A Virtual Expedition Brings Polar Science to Students, and Parents to School," documents a research project wherein elementary school students connected with scientist Juanita Constible as she studied the Antarctic midge, a wingless fly found only in Antarctica. Lauren helped connect Constible with a local school and ran a large portion of research project. Her article can be accessed using FCPL's Science in Context database.