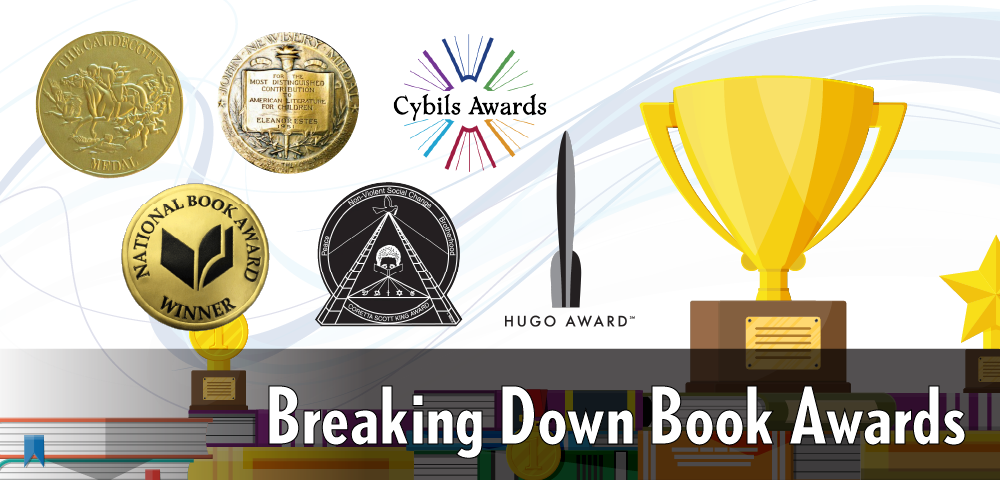 ---
By Dianne Coan, Technical Operations Division Director
---
Each year, the book community honors the best of the best in titles published by bestowing many different book awards. Anyone who has ever visited a bookstore or library can likely recall seeing the names and seals of these awards on book covers or in descriptions in catalogs, but what does each award mean?

Discover the answer with a breakdown of just a few of the countless book awards handed out every year.

What Are Some of the Different Awards?
Some awards for literature are very well known, often because they are nationally awarded by widely recognized organizations, like the Newbery Medal for children's literature, the Caldecott Medal for picture books or the National Book Awards. Other awards may be familiar only to a specific kind of book nerd because they are awarded by a certain part of the book community or those in a particular geographical area. These include: the Cybils Awards, which are selected by book bloggers and reviewers; the Maryland Blue Crab Young Reader Awards, which are awarded by the Maryland Library Association and the Cardinal Cup, which is given by the Virginia Library Association.
Some awards are specific to certain genres of books. For example, the Hugo Awards and the Nebula Awards honor the best in science fiction and fantasy writing, while the VIVIAN Awards recognize romance books and authors. Additionally, the Eisner Awards celebrate comics and graphic novels, whereas the Edgar Awards and the Agatha Awards acknowledge the best mystery books, and the Bram Stoker Awards salute the best in horror and dark fantasy.
There are also awards that focus on works about a specific community or by writers of specific community. One of the more well known of these is the Coretta Scott King Book Awards, which honor African American authors and illustrators of children and young adult books that portray African American experiences. Other such awards include the Pura Belpré Award, which honors Latino and Latina authors and illustrators of children and young adult books portraying Latino cultural experience; the Christy Awards, which acknowledges novels featuring the Christian world view; and the Lambda Literary Awards, which recognizes LGBTQ storytelling.

How Do You Remember Them All?
Short answer: We don't.

With so many books published annually, it is really no surprise there are many awards, include those not mentioned in this article. It is nearly impossible to keep track of them all, even for librarians. To help, FCPL's selectors have put together a large sampling of awards and an overview of each's criteria at bit.ly/FCPL_BookAwardsList. Though this is not a comprehensive list, we are sure you will find more than one award that appeals to your reading interests and will lead you on the way to your next favorite read!