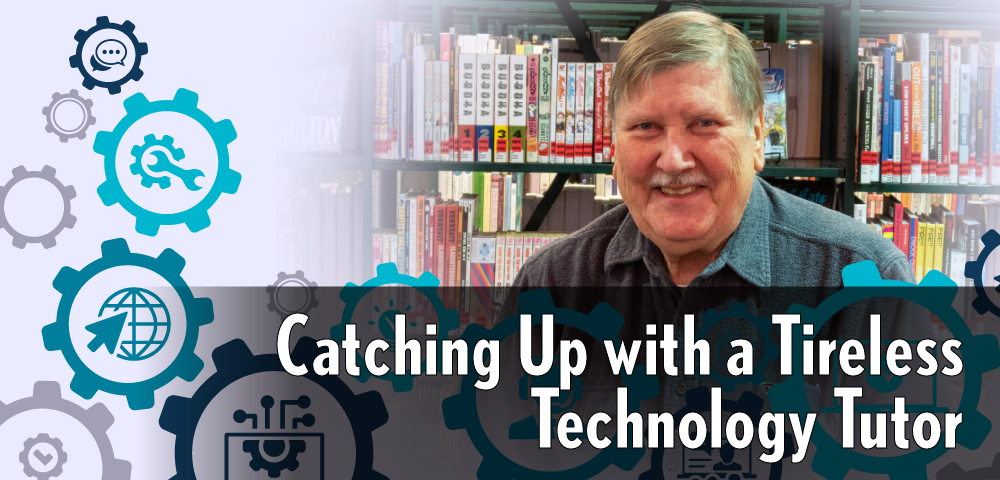 ---
By Erin Chernisky, Volunteer Services Program Manager
---
For over two decades, Nick Wenri has been a stalwart volunteer at Reston Regional Library serving as a technology tutor. Library customers can schedule appointments to meet one-on-one with Nick and other volunteers to improve their technology skills and get guidance on resolving issues with devices.
Nick, a retired electronics engineer, is a self-proclaimed computer hobbyist and first joined a computer club back in 1964. "I'm kind of a tech junkie. I have all sorts of different devices at home which has really helped me to deal with the myriad of questions visitors have. Usually, people are coming with older laptops and phones that they need help using and troubleshooting."
Early on in his volunteer career, the majority of requests Nick had during sessions centered around helping visitors learn how to navigate the internet and guiding people through online job applications. "I still get asked to help with job applications, but I now also get other questions about updating phones and apps, working with newer versions of Windows, borrowing eBooks from the library and, even, creating basic websites."
Nick enjoys the variety that every volunteer shift brings. He never knows what devices people will show up with, what issues they will be experiencing or what their level of technology knowledge will be. For this reason, patience and flexibility are key to Nick's sessions. "If I'm presented with a problem I can't resolve quickly, Google and YouTube are my friends. It's fun for me to research solutions with the visitors and learn new things. I do my best to make sure people leave our sessions happy."
To find current FCPL volunteer openings including technology tutor positions, visit your local library in person or check online at volunteer.fairfaxcounty.gov.