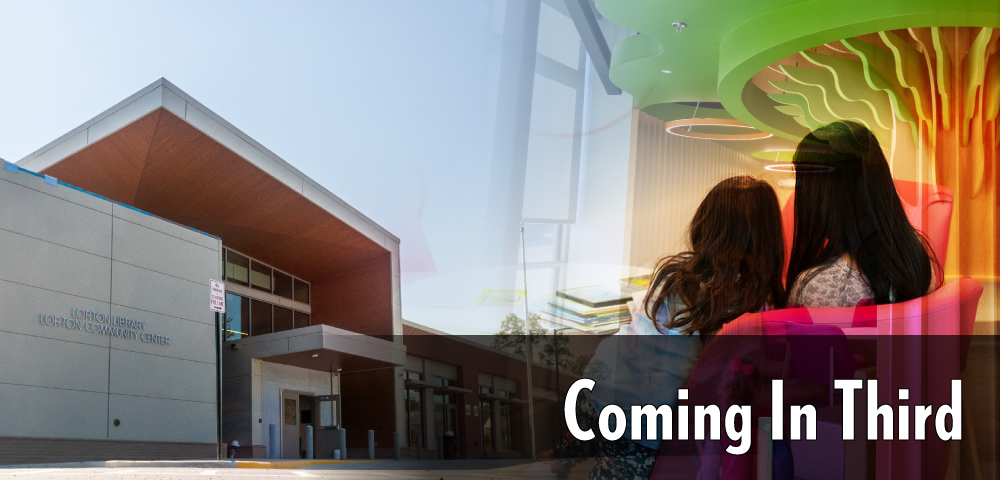 ---
By Erin Julius, Marketing and Communications Director
---
The COVID-19 pandemic changed many facets of society, in many ways, some of them most likely permanent. Prior to the pandemic, the editorial board for this publication had planned to write a feature celebrating libraries as "third places." In sociology, a "third place" is a location other than a home (the "first place") or work (the "second place"); it's not somewhere people must spend time, but rather a place people choose to visit.
A 2019 Forbes article describes "third places" as where people go to exchange ideas, have a good time and build relationships. Among the examples of "third places" in Forbes? Churches, cafes, clubs, parks and … public libraries! What a great thing to highlight in a public library's magazine.
Then a global pandemic hit, our locations closed to visitors for several months and that story idea no longer felt relevant. But, ironically, just as we were shelving the story, we also witnessed the truth of its premise.
People missed us during the shutdown. They didn't miss the books, because they had access to them; Fairfax County Public Library (FCPL) and many other library systems quickly took a page from the food industry's book and adopted a curbside pickup model. FCPL cardholders could access almost the entire physical collection throughout most of the shutdown. Many people also found our digital collection; circulation of digital materials grew almost 30% from fiscal year 2019 to fiscal year 2022.
During this time, our cardholders could access all the books they could read (or listen to!), but still missed their library. We must be doing more for people than providing books for free, right?
Of course, the books are a big draw. Virginia Colin signed up for a FCPL card when she moved to the area in 1999 and for the last two decades, she's been a part of a book club at our Kings Park branch. While the club switched to virtual meetings during the height of the pandemic, it was not the same, Colin said.
"Online we had more difficulty letting the conversation flow freely … I prefer meeting in person. It's somehow warmer and friendlier," she said.
Colin's sense of in-person meetings as "warmer and friendlier" relates to one reason "third places" are an important part of society. "Having a third place to socialize outside of home and work is crucial to wellbeing as it brings about a sense of connection and belonging," according to the Forbes article written by a wellbeing consultant.
Unlike home and work, a "third place" is often a place that brings together people who may not otherwise connect; "social classes and backgrounds can be 'leveled-out' in ways that are unfortunately rare these days, with people feeling they are treated as social equals," according to a 2016 article from Brookings, a nonprofit research institute based out of Washington, D.C.
Maureen Viall joined a book club at Kings Park Library more than a decade ago when she retired. Through the club, she has met wonderful new authors and reading companions, she said, calling the meeting "a great day every month."
Ann Smith is a member of not one, but three FCPL book clubs at three different branches. The conversations in all the groups are far-reaching and interesting, but she likes the club at the Burke Centre branch; it's a big group and large room, Smith said.
But not everyone who enjoys FCPL's spaces is part of an organized group. Sarah Andersson is an au pair who takes her charges to the Lorton Library several times a week to spend time with other caregivers and children.
She drives from Alexandria to Lorton so the group can enjoy the space. "With the playground outside and the toys they can borrow inside, it makes it the perfect place," she said. "The kids area is so cozy," Andersson said. "The entire area is probably my favorite thing … It would be good for other people to know that it's not like a regular library," she said.
What is a regular library? The concept is evolving and as it does, placing more emphasis on libraries as places to connect rather than just check out books. (We still have lots of books, though). Lorton Library, which reopened in October 2022 after a years-long renovation, is FCPL's first branch co-located with other agencies. The renovation expanded the building's footprint; it now houses a Fairfax County Neighborhood and Community Services community center and the Lorton Community Action Center. Outside is a brand new Fairfax County Park Authority property that includes a large playground.
As a result of the co-location with other facilities, people are now finding the library for the first time when they come in to visit the other services, said Kevin Brooks, FCPL facilities project coordinator. "They say, 'oh hey, this is what a new, modern library looks like,'" he said.
As other Fairfax County library branches are modernized, they will more resemble Lorton Library. "We're going to have a similar situation in Kingstowne," Brooks said. "People will walk in seeking many county-based services."
County officials broke ground on the new Kingstowne Governmental Center earlier this year. When completed, it will house a library branch, a daycare center, a senior center, the supervisor's office and more. Once finished, the Kingstowne site will be laid out much the same as Lorton, Brooks said.
Creating people-centered spaces in FCPL's branches really began with the Tysons-Pimmit Regional Library renovation several years ago. That design focused on providing spaces to sit and spend time, especially in the children's area where planners included inviting details like cushions on windowsills, Brooks said. "That continued with Lorton. We also incorporated some things for the first time [at Lorton]," he said.
An oversized chair in the children's section, for example, enables caregivers to put children on their lap for reading time. Mats on the floor also encourage visitors to get comfortable and spend some time. Of course, children aren't the only library users; Lorton Library also offers a separate teen room where visitors can play video games or spend time with friends, and several separate quiet study rooms.
More than anything, the space is inviting because designers worked to "bring the outside world in" with plenty of natural light, said Brooks.
Crafting welcoming space is part of a larger trend, as city planners focus on revitalizing neighborhoods by intentionally incorporating "third places," according to Brookings.
Libraries aren't generally the trendiest of places, but this is one trend we're happy to be following. Next time you're in the neighborhood, we invite you to come on in and pull up a chair.