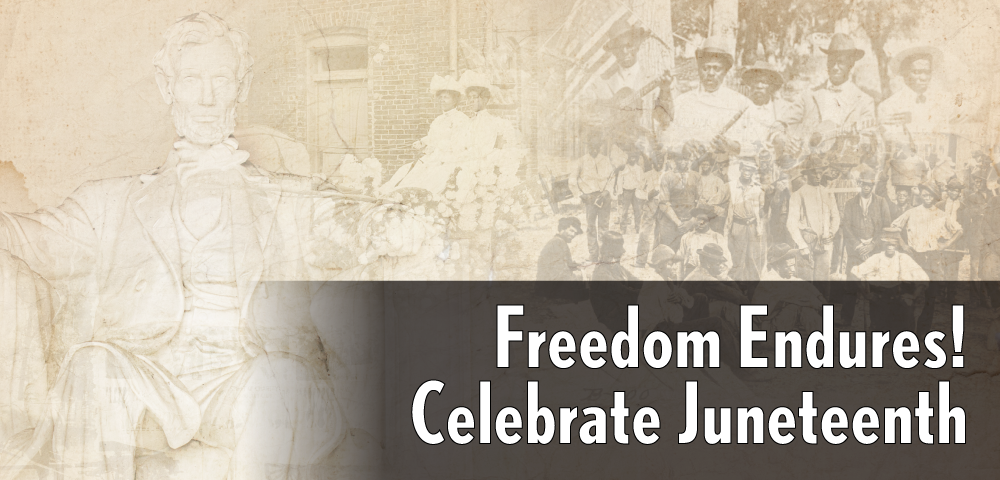 What is Juneteenth?
Juneteenth is a celebration of resilience. It marks the day – June 19, 1865 – when communities of enslaved people in Galveston, Texas learned the Civil War had ended, and they were free –two and a half years after the Emancipation Proclamation.
Although freedom did not happen overnight, celebrations broke out among newly freed Black people. In 1866, they celebrated with prayer, feasting, song and dance. According to a story in Texas Highways, Freedmen in Anderson County in East Texas created fireworks by drilling holes in trees and filling them with gunpowder. The first gatherings were held in remote rural locations that were not subject to the laws of segregation.
According to Juneteenth: The Joy of Freedom, "public space became a mighty ingredient in the forming of Juneteenth memories." In many parts of Texas, freedmen purchased land for Juneteenth gatherings: In 1872, Black Texans led by Baptist minister and former slave Rev. Jack Yates raised $800 to buy 10 acres of land in Houston now known as the Emancipation Park, according to reports in the Houston Chronicle.
The enactment of Jim Crow laws dampened the celebration of freedom. The Great Depression forced many farming families away from rural areas and into urban environments to seek work— resulting in the decline of Juneteenth emancipation gatherings, according to History.com. Celebrations were revived during the civil rights movement.
Today, celebrations include public readings of the Emancipation Proclamation, prayer, singing traditional songs, reading of works by noted Black writers, rodeos, street fairs, cookouts, family reunions, park parties, historical reenactments and Miss Juneteenth contests. On June 17, 2021, Juneteenth officially became a federal holiday.
On Tuesday, June 14 at 6:30 p.m., join us for "What We Commemorate on Juneteenth," a presentation by Dr. Richard Bell, a scholar, writer and professor of history at the University of Maryland. For more information and to register, visit here.
"But, if this part of our history could be told in such a way that those chains of the past, those shackles that physically bound us together against our wills could, in the telling, become spiritual links that willingly bind us together now and into the future – then that painful Middle Passage could become, ironically, a positive connecting line to all of us whether living inside or outside the continent of Africa…" Tom Feelings, The Middle Passage