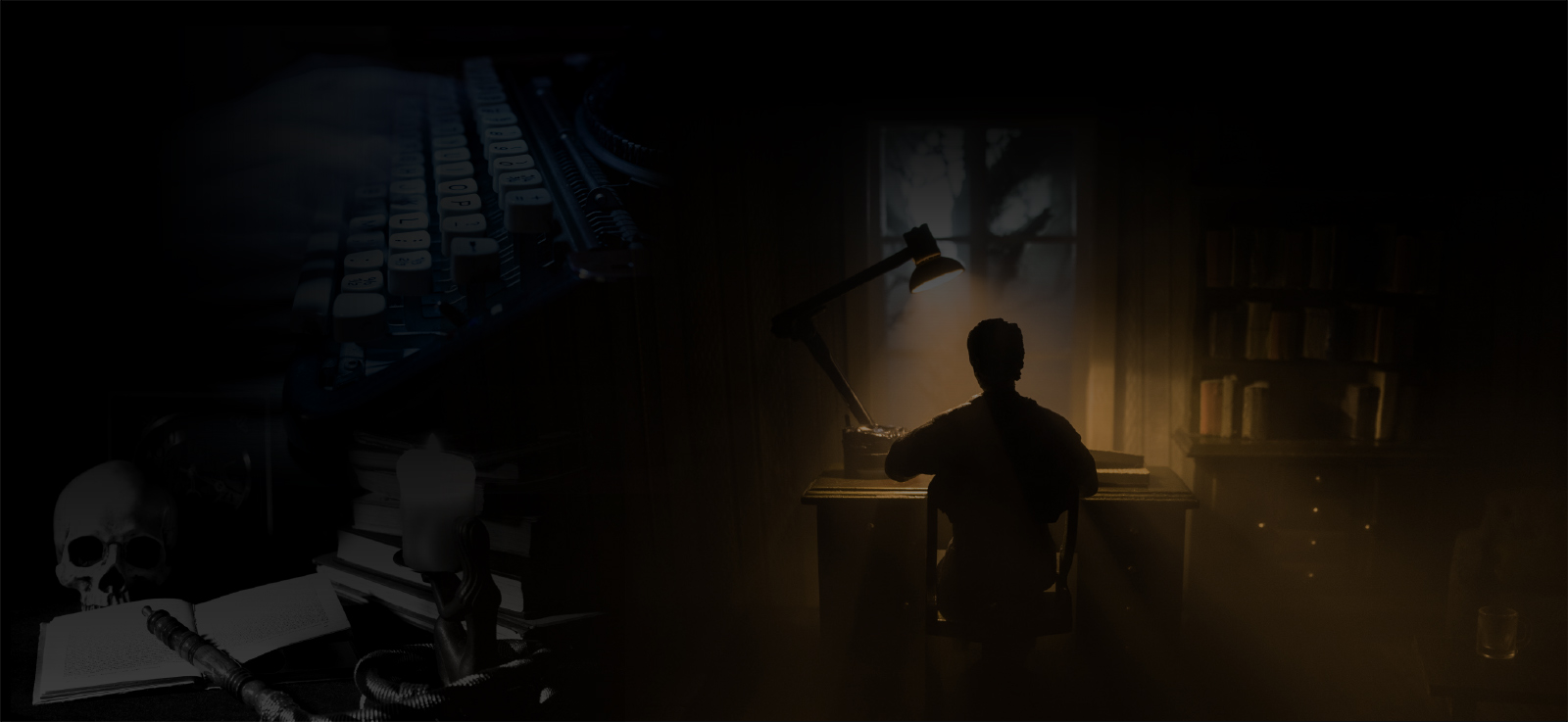 Venture into the strange realm of authors who keep writing after death and books that are here in spirit only.
---

---
From Beyond the Grave
This is not an article about scary stories or "ghostwriting" (when stories are written by one person on behalf of another). Rather, this is a tale of how authors publish from beyond the grave. When looking at a newly published advanced reading copy by Michael Crichton, an FCPL Collections Department selector remarked she had thought he had died… but obviously not. "No, he's dead," her colleague responded. "Just because you're dead doesn't mean you can't publish another book." 
The following interview with FCPL selectors Peggy Bercher and Dianne Coan sheds some light on this seeming impossibility.
Investigating the Mystery
"This happens more than you would think," Peggy Bercher, a selector with 25 years of experience, said. "John le Carré passed away in late 2020 and Silverview releases in October [2021]." 
"It is not unreasonable to presume a book published within a year or so of an author's death was already in progress [before they died]," she continued. "The publisher continues moving it through the editorial and production process." 
Odder is when there is a large gap between the death and the new book release. "Zora Neal Hurston died in 1960, but Barracoon was just published in 2018," Division Director of Technical Operations Dianne Coan pointed out. "The manuscript was finished in the early 1930s but not published. Like [Silverview by] le Carré, it is the author's own work." 
Another posthumous scenario is when another author takes over the writing, such as with the James Bond books published after Ian Fleming died. 
Phantom Titles

A reverse situation exists in which an author is alive, but their announced next book is nowhere to be found. "Even I know [fantasy author] George R.R. Martin is famous for having a pub date repeatedly pushed out," said Dianne, who primarily selects nonfiction. "We are still waiting for The Winds of Winter all these [10] years later, which explains that last season of Game of Thrones." 
Peggy chimed in to share an anecdote about hunting for an elusive title. "This past spring, a cardholder put in a Suggest a Title request for The Shadow of War, a book on the Cuban missile crisis, by Jeff Shaara," she explained. "I could only find a trace of it in eBook [format] at only one vendor. The cardholder wanted print. I thought maybe it was only published as an eBook."
"I had nothing to lose, so I reached out to the author," Peggy continued. "Jeff Shaara himself responded! He said the publisher had promoted it early, but, and I am quoting him here: 
'The first 90% of the book would include serious public anxiety, enormous military preparation, tense discussions in both Moscow and Washington, everything gearing up for what might be the most dangerous military confrontation in history … And then? Crisis over, everybody goes home. I just had the feeling that, unless you lived through it, as I did, younger readers would feel that the story fizzled out at the end. Maybe I'm wrong about that, but my publisher agreed with me — and jumped on my idea to do a WW2/Pacific set [instead].'* 
"The book never existed, except as research and early marketing!" Peggy concluded. "Sometimes that happens."
Dianne then recalled another cardholder inquiry about a delayed book. "Didn't you have another weird one with repeated delays?" she asked. "The author was really sick, and you found out there were rumors of foul play?" 
Peggy nodded. "Yes," she confirmed. "It was allegedly due to poisoning." But that's a story for another time.
*Jeff Shaara's World War II set includes the novels To Wake the Giant (2020) and The Eagle's Claw (2021) about Pearl Harbor and the Battle of Midway, respectively.