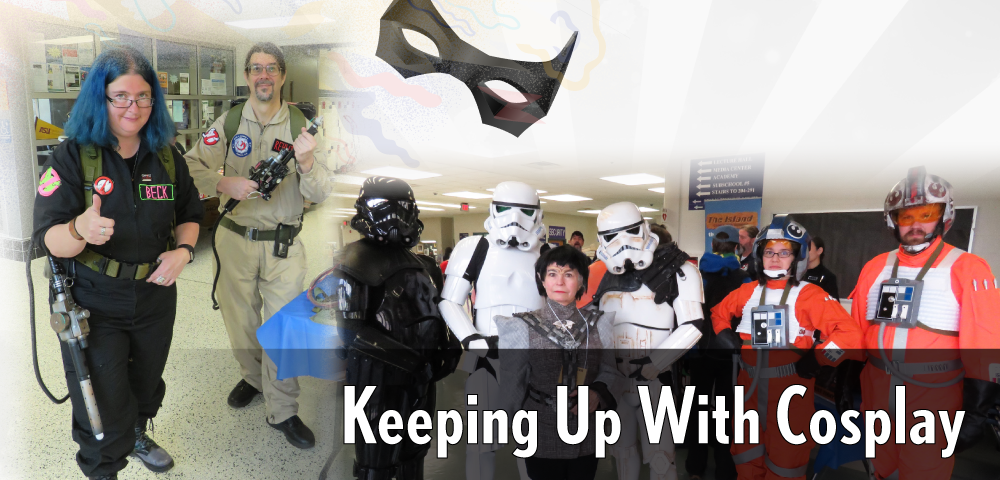 Costumes Are Not Just for October
---
By Valerie Furino, FCPL Cataloging Services
---
Fan culture has erupted over recent years, and with it, brought many new ways for people to pay homage to their favorite stories and characters. From joining online communities dedicated to connecting those who share a love for the same movies, graphic novels, anime and more to attending conventions where devoted followers can meet the people involved in bringing these stories to life, fans are frequently seeking out opportunities to immerse themselves more fully in the world of their fandom. One method of this becoming increasingly popular is cosplay.
Derived from a portmanteau of "costume play," cosplay has been around for centuries though known by different names. It wasn't until the 1980's when fans of Japanese manga coined the term "cosplay," according to an article by JSTOR Daily. Most people participating in cosplay do so for conventions, where fans gather to celebrate different aspects of pop culture. Some get so into creating their cosplay that it isn't uncommon to see other fans stop and ask costumed attendees for photos as one might a celebrity.
Some people have even made careers out of cosplay. Professional cosplayers, as they are known, often find success as social media influencers, according to an article by Insider, with some even breaking into mainstream modeling.
For a more in-depth history of cosplay, we recommend you check out Cosplay: A History by Andrew Liptak.
How To Get Started With Cosplay
Cosplay can be a simple or as complicated (and expensive) as you want it to be. Luckily, whatever your style is, Fairfax County Public Library (FCPL) has many books available for checkout to help you along your unique cosplay journey. If you aren't sure where to start, get inspired by reading Maker Comics: Create a Costume! by Sarah Myer. This graphic novel pairs a narrative about two friends in need of costumes for an upcoming convention with applicable budget-friendly ideas to create simpler cosplays. 
If inspiration isn't the problem, but rather how to execute your ideas, we got your back! Pick up tips on creating impressive cosplay looks with Level Up! Creative Cosplay: Costume Design & Creation, SFX Makeup, LED Basics & More by Amanda Haas or Cosplay For You: Personalized Design in Crafting Costumes by Sanit Klamchanuan, both from authors who have decades of experience creating costumes for cosplay.
Looking for more specific tips? You can find them on FCPL shelves too! Learn how to handle fabrics in Cosplay Fabric FX: Painting, Dyeing & Weathering Costumes Like A Pro from Julianna Franchini, another veteran cosplayer. For even more fabric help, consult Smocking Secrets: 20 Stitch Patterns to Create Unforgettable Texture by award-winning costume designer Maggie Hofmann. And lastly, for our more formal friends, learn how to turn your love for your fandom into something regal with The Cosplay Book of Ballgowns: Create the Masterpiece of Your Dreams! by cosplaying couple Regan Cerato and Kelley Kullman.
But Wait, There's More: Accessories
A well-crafted outfit is nothing without fabulous accessories. Going from store-bought to sensational is made easy with a little help from the experts. Clearly a cosplay connoisseur, Regan Cerato features again in this article with The Art of Extreme Wig Styling, for inspiration on hairstyles and colors, as well as Fabulous Cosplay Footwear, written with Kelley Kullman, to help you imagine and craft footwear that will have all eyes on you in any convention.
Maybe armor is what you need. Tap into your inner "plastic" smith with Armor up! Thermoplastics: Cosplay Props, Armor & Accessories by professional prop makers Christopher Tock, Chad Van Wyne and Sunny Van Wyne, a guide to creating next level shields, swords and more. Also, not to be missed is Handwear Handbook: Make Gloves, Cuffs and Vambraces for Cosplay and Beyond by Gillian Conahan. A professional stage costumer, Conahan demystifies one of cosplay's most tricky, but essential aspects: making gloves.
With so many books on so many different aspects of cosplay, the idea of creating an outfit may seem scary, but it doesn't have to be. The beauty of cosplay is that there is no right or wrong. Simple cosplays can show appreciation for a character just as much as more ornate ones. What matters is that you, the person underneath it all, are having fun.
Check out the books listed in this article and other guides to cosplay.