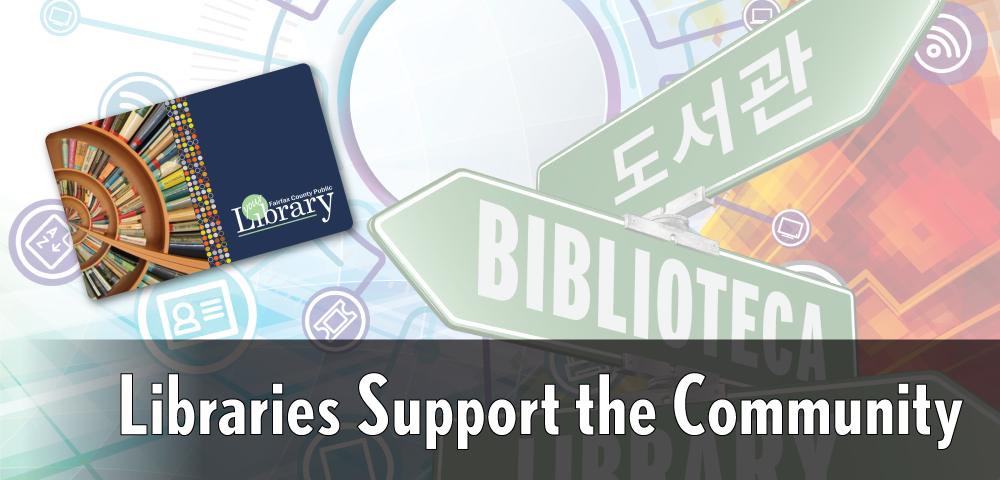 By Donna Heneberry, Assistant Circulation Manager, Reston Regional Library
---
Public libraries are known as the place to go for both entertainment and information. As life has changed over the years this meant adding computers for public use, audiobooks on CDs and movies. Now it means a digital collection of eTitles available through Libby and circulating Chromebooks and hotspots. Library staff members have expanded their knowledge and expertise to better serve the community and to provide the public tools to navigate their everyday lives.
During the shutdown necessitated by the global pandemic, Fairfax County Public Library (FCPL) instituted new procedures so that the public could still access materials. Temporary cards were issued with extended expiration dates so new cardholders could access the many services the library offers. Curbside pickup allowed the public to safely enjoy the collection and staff provided grab bags of books based on age and interest through an early version of the new Library To Go initiative. Programming went digital, with staff running online programs to keep people connected. The extended temporary cards allowed people to read the many offerings in FCPL's digital collection.
Beyond Library Services
Libraries are trusted representatives of government. So in partnership with the Fairfax County Health Department, we opened our doors to residents as COVID-19 testing sites in 2020, and as vaccination clinics in 2021. As part of the Virginia Department of Health's Supporting Testing Access through Community Collaboration, staff distributed 46,000 COVID-19 rapid tests throughout December 2021 and earlier this year. By making free tests available at all 22 open branches throughout the county, we were able to get tests to those who needed them most.
As restrictions have eased and life returns to normal, some of these changes will remain. The convenience and popularity of curbside pickup and online programming mean that these services will continue, alongside in-person programming and the return to regular hours.