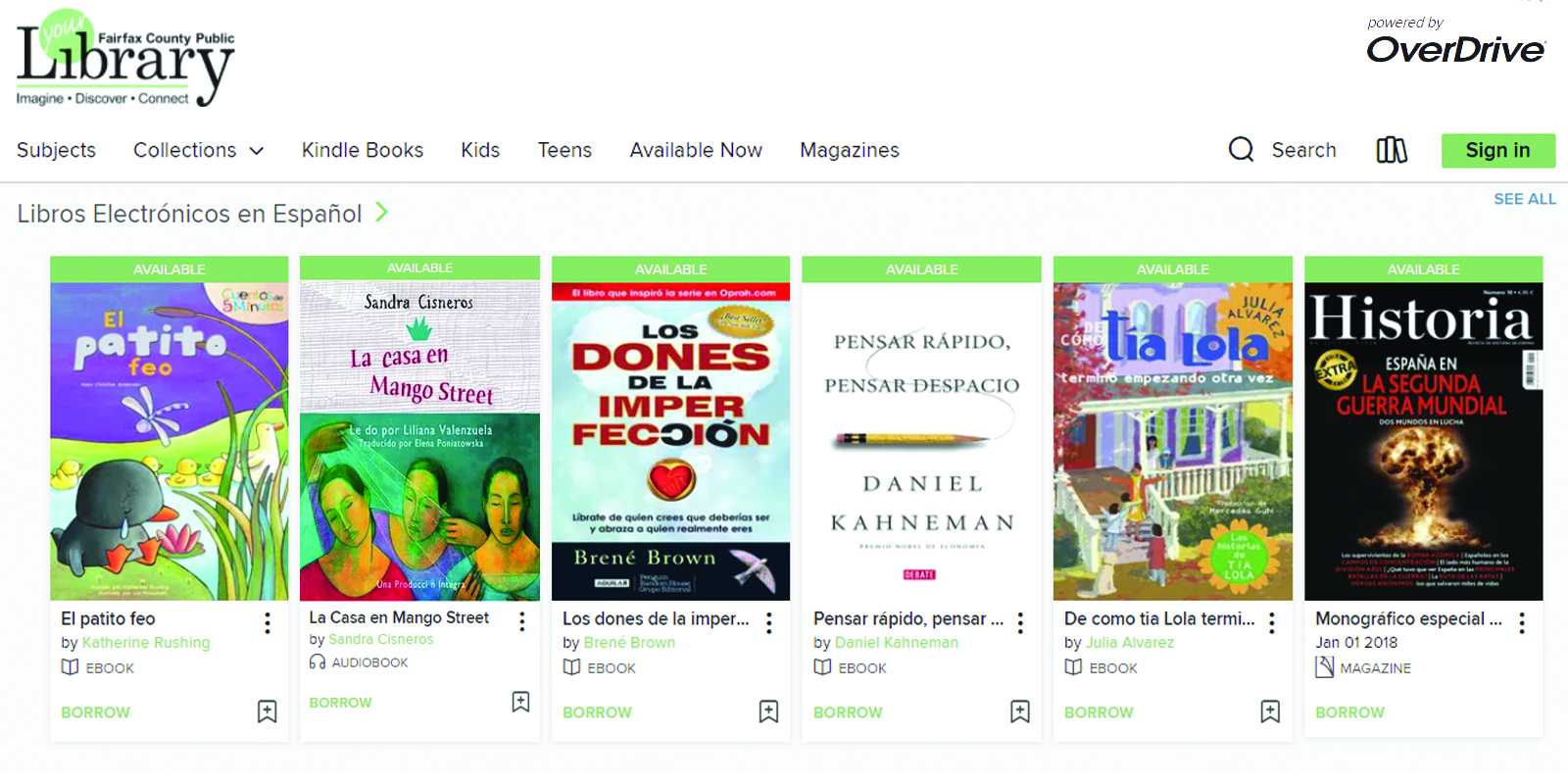 Por Sylvia Enriquez, Asistente de Información, Servicios de Colección 
De acuerdo a la encuesta del 2019 American Community Survey 5-Year Estimates profile aproximadamente el 14% de los residentes del Condado de Fairfax hablan español — y la biblioteca pública del condado ofrece libros y libros y audiolibros electrónicos para lectores de español. 
Cuando yo escojo materiales en español, utilizo procedimientos y criterios similares a los usados al seleccionar nuestros materiales en inglés, pero especializados en el lenguaje. Estos incluyen: encontrar materiales en listas de la industria del libro, sugerencias de nuestros usuarios y nuestro personal. Utilizamos también mercadeo de las editoriales, revisiones de lectores profesionales para informar nuestras decisiones de compra y así esforzarnos a mantener una colección que refleje los variados intereses de nuestras comunidades. 

La colección en español de FCPL incluye libros traducidos del inglés, libros publicados originalmente en español y libros bilingües español/ingles. Usualmente, toma tiempo el traducir al español un título popular en inglés — La chica salvaje (Where the Crawdads Sing) por Delia Owens se publicó después de más de un año de la publicación de edición en inglés. Ocasionalmente el libro se lanza simultáneamente en ambos idiomas; como: Mi historia (Becoming) de Michelle Obama. Yo ordeno los títulos populares en Ingles en español tan pronto como los calendarios de publicación lo permitan.  
El personal de la biblioteca indica que los libros bilingües y en español para niños son populares para estudiantes de idioma español, así como para lectores con dominio del idioma Mi objetivo es encontrar un balance entre materiales bilingües y en español, como también entre materiales traducidos del inglés y materiales originales en español. Todo el tiempo se añaden nuevos libros en español para todas las edades … ¡Esperamos que te diviertas leyendo!  
---
Spanish Books? Yes, We Have Those!
By Sylvia Enriquez, Information Assistant, Collection Services
According to the 2019 American Community Survey 5-Year Estimates profile for Fairfax County, nearly 14% of residents speak Spanish — and FCPL offers books, eBooks and eAudiobooks for Spanish readers! When I choose Spanish materials, I use procedures and criteria similar to our English materials selection but specialized for language. This includes: finding materials from industry book lists, customer and staff suggestions, and publisher marketing; reading professional reviews to inform purchasing decisions; and striving to maintain a collection that reflects our communities' varied interests. 
The FCPL Spanish collection includes books translated into Spanish from English, books originally published in Spanish, and bilingual Spanish/English books. It usually takes time for a popular English title to be translated into Spanish — La Chica Salvaje (Where the Crawdads Sing) by Delia Owens was published over a year after the English edition — but occasionally both languages release simultaneously, like Mi Historia (Becoming) by Michelle Obama. I order popular English titles in Spanish as quickly as publication schedules allow. 
Branch staff indicate that bilingual books and Spanish children's books are popular for Spanish language learners, as well as for fluent Spanish readers. I aim for a balance between bilingual and Spanish-only materials, as well as between English translations and original Spanish materials. New Spanish books for all ages are added all the time … We hope you have fun reading!