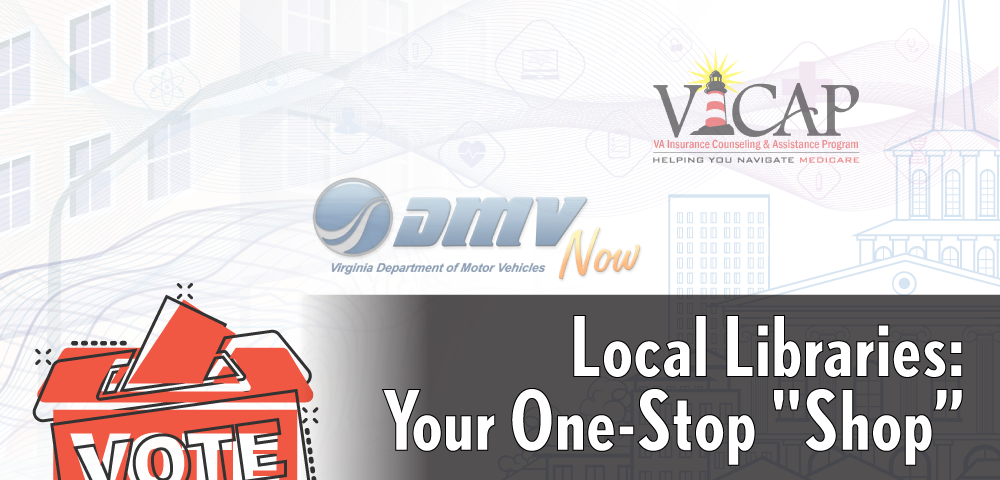 ---
By Alana Quarles, Assistant Branch Manager, Centreville Regional Library
---
County and state agencies make some of their services available at local library branches in order to provide easy access. Check out what services are available:
VICAP Medicare 101
Every year, the Virginia Insurance Counseling and Assistance Program (VICAP) presents Medicare 101 online and at branches across Fairfax County in person. If you have questions about Medicare parts A-D, covering inpatient and outpatient hospitalization, Medicare Advantage plans or prescription drugs, then register for Medicare 101 this October and November. Medicare 101 is a free class taught by Fairfax County staff who are non-biased, state certified and State Health Insurance and Assistance Program (SHIP) Counselors. Check FCPL's online event calendar for upcoming events!
DMV To-Go and DMV Connect
Did you know that DMV To-Go and DMV Connect offer many popular services by appointment and walk-in at various library branches throughout the year? Services offered include: REAL ID Drivers' Licenses, ID cards for adults and children, disabled parking placards, address changes, vehicle titles and E-Z pass. Check out our online event calendar for upcoming visits. Appointments are also available online.
Vote Here!
Did you know several library branches are also polling locations? More importantly, did you know that libraries are a great place to get up-to-date forms and information about upcoming elections and voter registration? Whether you're looking for a voter registration form, trying to locate your polling location or checking your voter status, you can find those answers and more at your local library or by visiting www.fairfaxcounty.gov/elections.