Celebrate animals and stories with these special FCPL branch representatives.
---
By Valerie Suttee, Richard Byrd Library Branch Manager 
---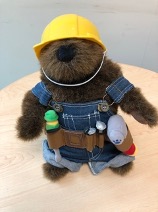 Although they all belong to one large system, each FCPL branch has a unique personality created by many different factors — from the location and the staff to the building itself and, in some cases, a mascot!
Burke Centre
Fred the groundhog is named after Freds Oak Road, where the branch is located. In full construction gear, he attended meetings leading up to the construction of the branch. When Burke Centre held its grand opening in June 2008, Fred was there sporting a black tuxedo, and he has been the branch mascot ever since.
Centreville Regional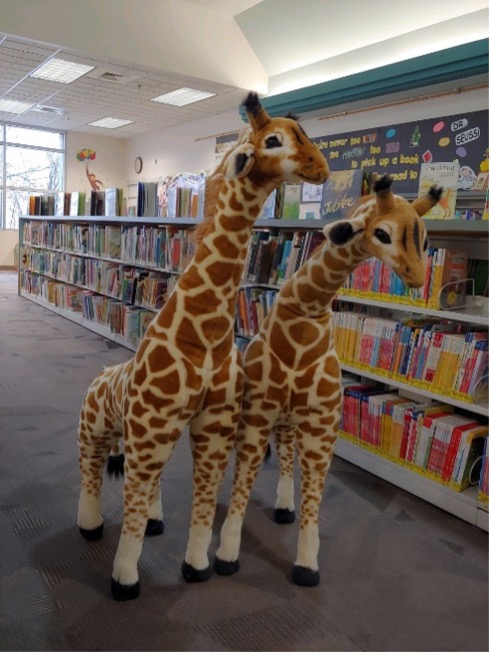 Story the giraffe was given to the branch by its Friends of the Library group. Over time his head and neck began to droop, and a kind customer donated a twin for Story named Epic. 
City of Fairfax Regional
Fairfax Freddy, a rubber duck, lived happily in a puddle on the roof of the old Fairfax Library building and helped monitor puddle depth and flood potential following a pattern of leaks. Although Fairfax Freddy is gone now, a flock of new rubber ducks is maintained in his memory and remains near and dear to the branch.
Kings Park
Leo the lion watches over the children's area and makes a special appearance every winter for Winter Reading.
Kingstowne
Bruce A. Shark first appeared at Martha Washington but now resides at Kingstowne. Spending his time looking out the window next to the book drop, he enjoys visitor waves and photos. He is a practical joker who looks mean but has a big heart.
Martha Washington
Luna the Labrador retriever, along with her puppies, greets young patrons near the Info desk. 
Oakton
Surrounded by many types of trees, Oakton Library has adopted the squirrel and his acorns as mascots. 
Richard Byrd
Admiral Byrdy, or "Tux" to his friends, is a penguin who made his debut in the lead up to branch's 55th anniversary celebration in August 2013. He features prominently in the library, often seen wearing a scarf and aviator hat.
Tysons-Pimmit Regional
This branch has two co-mascots. Since the library was built on a peach orchard, one of them is a peach. The other is TY-Rex the dinosaur. He got his name from FCPL Director Jessica Hudson, who suggested it after seeing the dinosaur printed with one of the library's 3D printers.