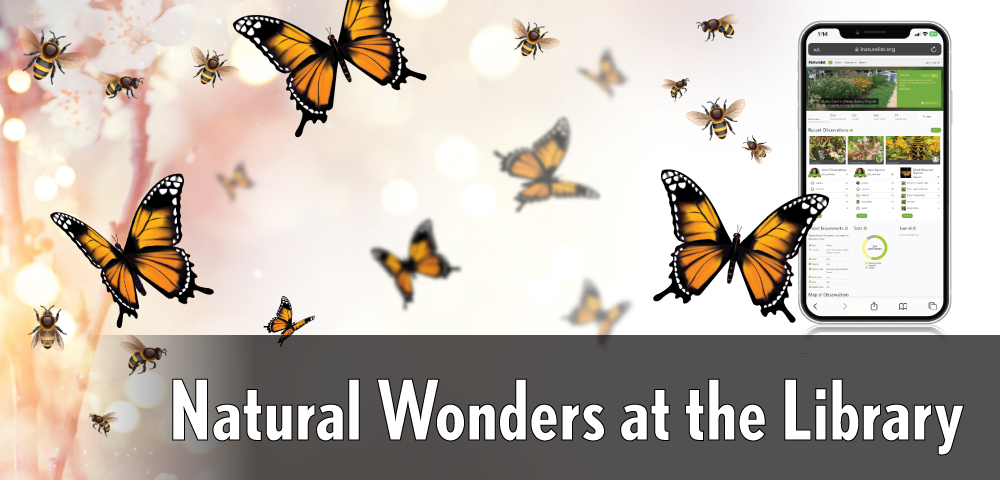 ---
By Nancy Klein, Youth Services Manager, Burke Centre Library
---
Teens often think of libraries as places for indoor activities because they provide a quiet place for study or a resource for earning volunteer hours. But libraries can be places of outdoor exploration and discovery too!
At Burke Centre Library, a conservation effort is underway in the form of a garden that provides a habitat for endangered pollinators like the monarch butterfly and some species of bumblebees. The garden serves as a self-directed nature program that teens can access whenever they like. Garden explorers can contribute to scientific research by making observations of foliage and wildlife, taking and uploading pictures to a citizen scientist database project via the iNaturalist app. Other observers in the community will interact with these observations by either confirming the species identification or suggesting another. This online social interaction is a great way for teens to learn more about biology outside of the classroom.
More information on the Burke Centre Library iNaturalist project can be found at bit.ly/BurkeCentreLibrary_iNaturalist.
The garden at Burke Centre Library is also a Monarch Waystation. What does that mean? Simply put, it is a place for monarchs to rest and refuel during their long migration of about 3,000 miles from Mexico to Canada in the spring and summer months and their return trip to Mexico during the fall season. According to the nonprofit research program, Monarch Watch, a monarch butterfly travels about 200 miles a day and needs nectar and milkweed plants to complete the journey. Burke Centre Library has helped protect monarchs by planting milkweed and other plants in its garden to ensure the butterflies have access to the resources they need during their migratory journey.
This project is just one of the offerings Fairfax County Public Library has for teens interested in the outdoors and plants. The library often works with Fairfax County Master Gardeners or local garden clubs to hold gardening events and partners with other organizations, like the Fairfax County Park Authority, to host events at locations throughout the county.
To learn more about upcoming library events involving nature visit bit.ly/FCPL_NatureEvents.