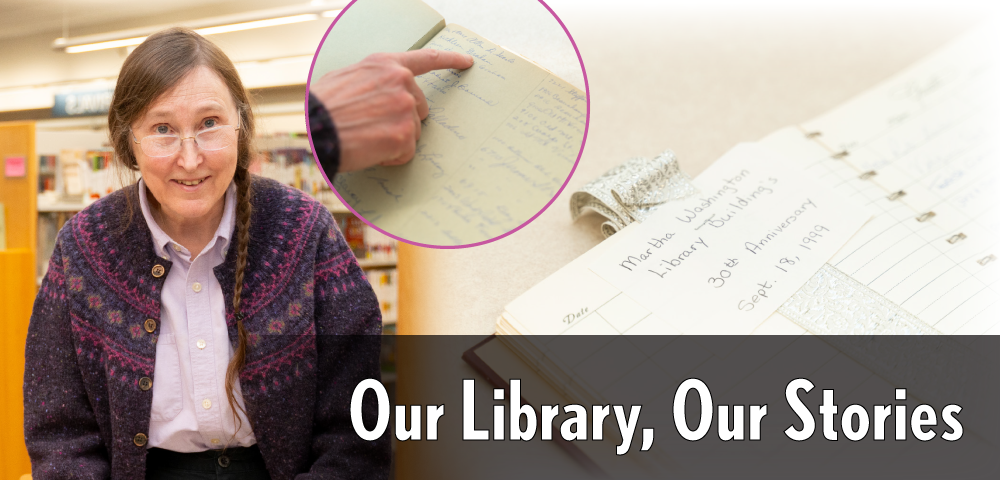 ---
By Erin Julius, Marketing and Communications Director
---
Learn about the many facets and faces of FCPL and our community — one story at a time.

In Branch Out's "Our Library, Our Stories" section, we spotlight one person's story about life and the library in each issue with the hope that it helps us all get to know and connect with each other just a little bit better.
When she was three or four, Kathleen Graham may have been the library system's youngest cardholder. The bookmobile parked outside her house near Mount Vernon once a month and her mother taught her how to write her first and last name so she could get a library card. That was 1960.
Kathleen has since checked out books from that bookmobile, from a library location in a home on Potomac Avenue in the Belle Haven area of Fairfax County, and from another temporary location in the Belle View shopping center.
The library welcomed a permanent southern Fairfax County location when the Martha Washington branch opened in 1969. Now retired from a career as a budget analyst for federal science agencies, Kathleen still visits the Martha Washington branch two or three times a week. She uses the public computers and printing kiosk, enjoys programs about history and checks out books about science, nature and conservation, Kathleen said.
She also knows all the branch staff. We were introduced to Kathleen because she was chatting with Branch Manager Cathy Noonan when our email to staff arrived asking if anyone knew of longtime library visitors who'd like to chat with us.
But Kathleen's fondest memories are of the bookmobile days. She remembers Mrs. Nunn, the longtime librarian who initially knocked on Kathleen's parents' door asking if she could park the bookmobile outside. Inside the bookmobile, the shelves tilted back so the books couldn't fall out in transit. The lowest shelves held picture books so small children could browse them. A man named Henry Ambler drove the bookmobile and checked out the books; those library cards had a metal tag and a machine photographed it alongside the due date card tucked into the book pocket.
Or perhaps her fondest memories are of the people. "All the librarians throughout the years have always been so interested in helping people learn," she said.