Learn about the many facets and faces of FCPL and our community — one story at a time. 
In this Branch Out series, you'll find interviews with, personal narratives from, and articles about FCPL staff and users. With a county and a library system as large as ours, it's especially important to highlight the individual experiences, unique backgrounds, and many diverse voices within them. So, we're putting the spotlight on one person's story about life and the library in each issue with the hope that it helps us all get to know and connect with each other just a little bit better. Our story this quarter comes to us from FCPL's new deputy director, Kevin Osborne. Learn more about our staff by reading previous installments about Aliya Parvez and Kylie Sparks.
We want to share your stories, too! Click here for questions to prompt your story and instructions for how to submit to us.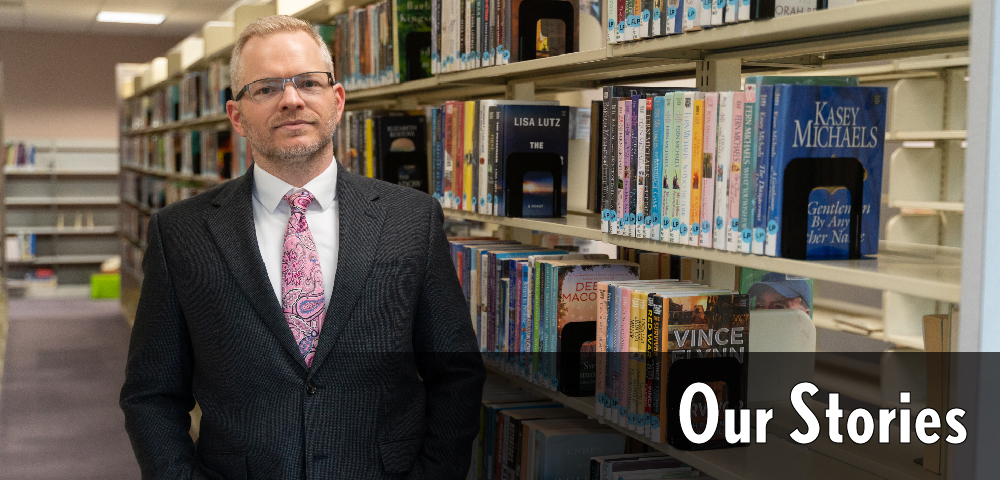 Kevin Osborne
Deputy Library Director | FCPL Administration
Q. What are your favorite genres to read or to help library users explore? Why? Tell us a few all-time favorite books (childhood books count, too!).
A. I'm embarrassed about how little I read compared to my voracious colleagues. I'm a comic book nerd from way back, so I always grab new trade paperbacks when they land. My favorite authors are Bret Easton Ellis and Hunter Thompson. My all-time favorite read is the Golden Friendly Book Spaghetti Manners.
Q. How long have you worked at FCPL, and how would you summarize what you do? What enticed you to apply for a position at FCPL?
A. I have worked at FCPL for six weeks [as of February 24]. I help the director with day-to-day operations of the library and oversee library IT, programming, communications, technical operations, and branch coordinators. I was looking for a big system in Northern Virginia where I would be able develop my skills under a highly skilled leader. [Library Director] Jessica Hudson has done such great work at FCPL that I couldn't pass up the opportunity to learn from her.
Q. How do you spend your free time?
A. Free time? I'm always on the go, and I can't stand to be still or stuck at home. You can find me on the way to the next coffee shop or new restaurant. I'm a big-time foodie with a goal of eating at every Michelin-starred restaurant in the DC area.
Q. Tell us about your background. Where did you grow up and go to school? What did you study?
A. I spent the first 24 years of my life in Florida. I was born and raised in Palm Beach County. In college at Florida State University (FSU) I studied fine art and religion. After a brief stint teaching English in South Korea, I returned to FSU to get my MLIS degree [Master of Library and Information Science]. I focused my studies to become a school media specialist specializing in middle schools.
Q. Did you have experience with the library or library staff when you were growing up? What attracted you to or inspired your work at the library? 
A. In middle school I spent many afternoons at the Boynton Beach public library in the pre-internet era. I spent hours poring over books about skateboarding and photography. After my time in Korea, I decided that I wanted to work somewhere quiet and full of smart people, and, after thinking about it for a while, I thought "libraries!" Little did I know it would mean going back to school.
The best part of librarianship is helping people. Sometimes it's finding someone a great book, but it's best when you have a visitor who has just about given up on their search and you manage to use every tool you've got and pull out exactly what they need. Their eyes go wide, and they're legitimately stunned at what you found for them. That's a great feeling.
Q. What causes are important to you?
A. My pet causes are dog related; I try to donate as much time and money as I can to dog rescue organizations like the SPCA. We lost our 15-year-old Lhasa Apso, Tashi, this year, and we're not ready to adopt yet. We do have grand plans to foster as many dogs as we can this year.
Q. Tell us about your career journey. Where did you work prior to FCPL and how did it ultimately lead you here?
A. I started my career in a Title 1 elementary school in South Florida where most of the students were from Haiti and Mexico. Most of them never had access to a library before — or a male librarian who put on over-the-top storytimes. I really miss those kids. It's wild to think that the kindergarteners I taught at the beginning of my career are in their early 20s now.
After that we moved to NoVA because my wife landed a job with the federal government. Since moving here I've been a reference librarian at Howard University, the IT librarian at Mary Riley Stiles Public Library in Falls Church, the adult services manager at Alexandria Library, a branch manager in the West End and Shaw branches of DC Public Library, and, most recently, I was the director of Waynesboro Public Library.
Q. Do you have a favorite program, service or resource offered by FCPL? Why? 
A. I have a special place in my heart for Access Services and the work they do with individuals with print disabilities. It is such an incredible and important service for some of the Fairfax County's most underserved communities.
Q. You're hosting a dinner party. Which three people, living or dead, would you invite?
A. Anthony Bourdain, Miley Cyrus, and Hunter S Thompson.
Q. Tell us something you are proud of and why. 
A. I got spinal cancer when I was 25. I have titanium rods from my L3 [vertebra] down into my pelvis. I was not expected to ever walk again, but here I am. It was an ordeal that changed the way I look at the world, my life and my time on the earth.