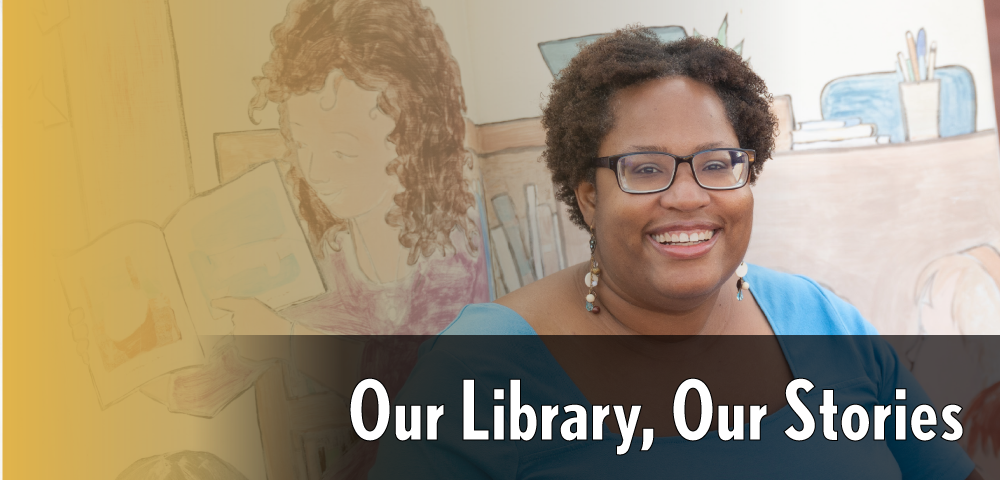 ---
By Giovonny Bland, Marketing and Communications Assistant
---
Learn about the many facets and faces of FCPL and our community — one story at a time.

In Branch Out's "Our Library, Our Stories" section, we spotlight one person's story about life and the library in each issue with the hope that it helps us all get to know and connect with each other just a little bit better. Our latest story comes to us from Valerie Drummond, the library administration's organizational development manager.
Since joining FCPL in 2015, Valerie has worn many hats. Before serving in her current position, Valerie held roles as a youth services manager, assistant branch manager and branch manager at multiple FCPL branches. With an effervescent personality and dedicated work ethic, Valerie leaves her mark everywhere she goes. As the first member of her family to attend college, Valerie has always been committed to making progress. She received her bachelor's degree in communications from Loyola College in Maryland (now Loyola University Maryland).
Growing up with a father in the Army, Valerie spent her youth living on military bases around the world including Germany. While living on base, she first experienced a library. "At first I hated it," Valerie said, but the library was "the place all the kids would go to after school." Her attitude quickly shifted upon entering secondary school, when she realized the important role libraries play in helping kids prepare for their futures. However, it never occurred to her at the time to consider a career working for a library, Valerie said.
Prior to making her way to FCPL, Valerie held positions as a flight attendant, Montessori school teacher, library school media specialist and representative for Enterprise Rent-A-Car. Through a chance encounter with a customer while working at Enterprise, Valerie learned she could obtain a degree in library science. Based on the conversation they had, she pursued her new career path. After enrolling in the University of Maryland College Park, Valerie earned her master's degree in library science. She soon utilized both her education and career experience to make her way to our library which she says is the "place I have ever worked the longest."
When not developing new methods to help her colleagues achieve their full potential, Valerie loves to spend her time reading books, watching superhero movies ("Superman" is her ultimate favorite) and listening to music. A fan of the fantasy genre, she has recently added House of Sky and Breath by Sarah J. Maas to her collection of books. She is also discovering new-to-her classics, having added Persuasion by Jane Austen as well.
To relieve stress, Valerie shops for books at McKay Used Books and Barnes & Noble. "Some people like to shop for clothes, I like to shop for books and CDs," Valerie said.
One of her favorite things to do is serving as a champion for her colleagues. Managing Kings Park Library at the start of the pandemic has been the most memorable time since she's worked at FCPL, Valerie said. She rallied her team to make them "all one person" while encouraging them to express their ideas and take initiative to create new systems. The branch staff worked together to keep their branch going.
"The way we were all able to come together provided me an experience I have never had before in my previous jobs," she said. Helping her staff develop their skills and step out of their comfort zones ultimately helped her to do the same, eventually leading Valerie into her current role at FCPL. With her determination, affable personality and myriad of professional experience, Valerie continues to be a shining representation of FCPL.