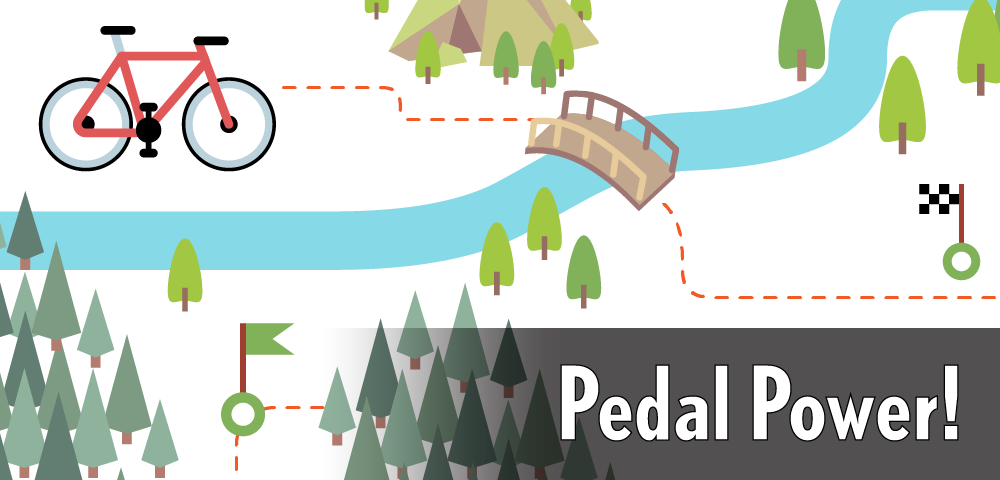 ---
By Patti Usowski, Associate Circulation Manager, Tysons-Pimmit Regional Library
---
Close your eyes and imagine you are on your bike riding downhill. The wind rushes by as you pick up speed. You are free!
Did you know that each year, more bikes are produced than cars? That's 105 million bicycles! But where did the bikes we know and love come from?
The Bicycle is Born
According to the History.com article "The Bicycle's Bumpy History," a German baron named Karl von Drais invented the first "steerable, two-wheeled contraption" in 1817. Known as the velocipede among other names, this predecessor to the modern bicycle had two in-line wheels connected to a wooden frame with a handle for steering. The rider would push back with alternate feet to roll forward.
The article also says that over the late 1800s, improvements, such as pedals, chains, brakes and air-filled tires, were added to offer more comfort during riding. With these additions, bicycles became more popular than ever.
For more on the history of the bicycle, check out Pedal It! by Michelle Mulder at your local library branch.
Getting Started
Which bike? What color? Is it the right size? Peter Drinkell's The Young Cyclist's Companion has the answers to many of these questions. In the book, you will find a wide range of information on choosing the right bike for you, as well as tips on cleaning and fixing your bike. Safety guidelines are also included, such as the number one safety rule: always wear a helmet!
Where Can I Ride?
Quiet neighborhood streets are a great place to ride with friends. For those wishing to explore beyond their backyards, the Fairfax County Park Authority offers many trails in parks all across the county. Lake Fairfax Park and Brookfield Park are even home to pump tracks, looping bicycle trail systems for riders that travel the path by pumping with their arms and legs instead of pedaling. Visit bit.ly/FFC_BikeTrails for a complete list of bike trails in the county, as well as information about each trail and their difficulty levels.