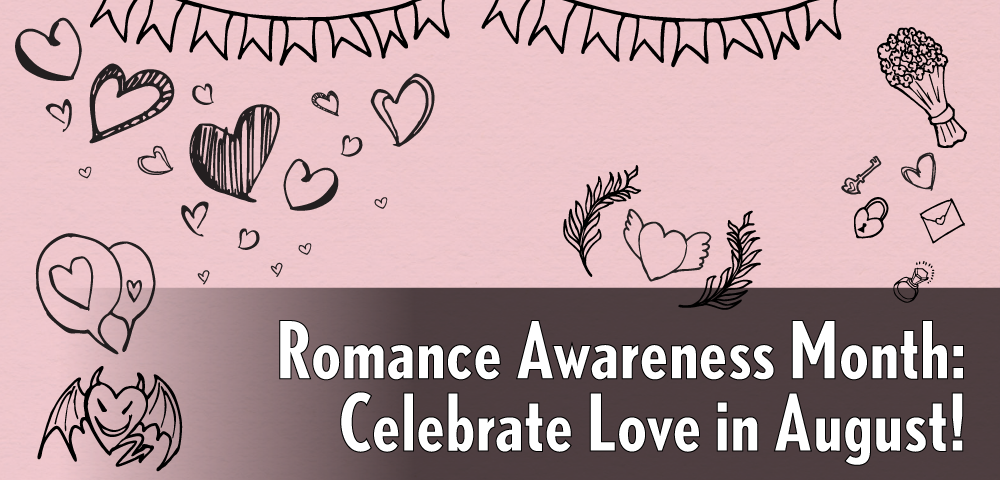 By Brooke Stoneman, Former FCPL Librarian
---
February is not the only month for celebrating love. August is Romance Awareness Month, when we celebrate both our love of fellow humans and the romance writers who give us meet-cutes, sassy best friends, soul mates and happily ever after endings.
Show Your Love
August may be for romance, but love comes in many forms. Celebrate your significant other, best friend or family member with simple actions to show your affection. The Romance Awareness Month National Day Calendar suggests:
Plan the unexpected. Surprise your loved ones with dinner in a favorite restaurant.
Slip a hand-written note into a jacket pocket to show support or appreciation.
Cultivate activities by finding common things you enjoy.
These Books are Hot, Hot, Hot
Don't forget to show love for our romance writers! FCPL has a broad selection of romance books from historical fiction to contemporary. Check out these titles:
The Bombshell by Sarah MacLean. Lady Sesily Talbot always finds trouble until she meets Caleb Calhoun. Caleb feels he must keep his best friend's beautiful sister from tumbling into misfortune, and he has a hard time resisting the thought that she is forever.
A Knight in Shining Armor by Jude Deveraux. Dougless Montgomery is abandoned and weeping on a cold tombstone in an English church. An extraordinary and extremely handsome man from the 16th century magically appears.
Mismatch by Tami Hoag. Bronwynn Prescott Pierson, jet-setting socialite, and Wade Grayson, ambitious congressman, were all wrong for each other…until they accidentally met in the Vermont woods.
Come Celebrate with Us
We celebrate romance writers all year in our "Racy" Reads book group. Our selections range from gentle heat to five- alarm fires! In August, we are discussing One Last Stop by Casey McQuiston.
And…speaking of Casey McQuiston, also the author of Red, White & Royal Blue, the library is arranging an author event with her in August! Stay tuned for details on our social media.