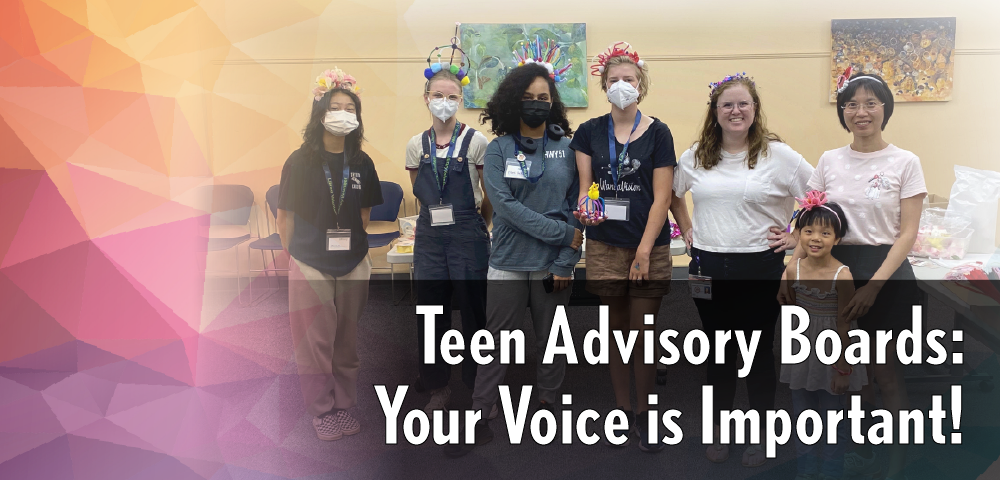 ---
By Chase Gaitens, School-Age and Teen Services Assistant
---
Have you ever had an awesome idea for a project, but don't know where to turn to make it happen? Have you ever visited your local library and thought about all the ways you would improve it? Do you want a fun way to earn volunteer hours? If you answered "yes" to any of these questions, keep reading!
Fairfax County Public Library (FCPL) wants to know your interests regarding programs, crafts, workshops and resources to ensure you have a voice in the future of the library. To achieve this, many FCPL branches have formed Teen Advisory Board (TAB) groups. These groups are comprised of teens ages 12-18 who meet regularly with library staff to plan fun events and activities.
Nancy Klein, the youth services manager at Burke Centre Library, explaining why being a part of TAB groups is important, says, "Teens will gain experiences that will help them later in life, whether they are applying for college or for jobs. Participants get real-life experience with skills like project management, teamwork, time management and leadership. They also gain a sense of satisfaction and fulfillment from giving back to the community and having a voice in shaping library programs and services."
TAB groups are also an awesome opportunity to meet others your own age and to take part in something special together. Check out what current TAB members have to say about being part of the group:
"I love reading and writing and have learned to turn to books when the rest of the world seems to descend into chaos. I would like to share the peace and joy I have found through books with other people." - A. Sterner
"I want to serve on TAB because it would bean honor and I might be able to make libraries more interesting to teens." - A. Czarnecki
"I feel as if my generation is a little bit disconnected from the joys of books and I wish to be a part of closing that gap." - C. Mayer
"I want to learn more about communication, teamwork, taking initiative and being a leader.
These are all things I believe TAB membership will help me achieve!" - J. Fontaine-Rasaiah
"To me, the library is a space where kids can gather and feel a sense of community, which I would love for teens to feel as well." - S. Kim
 
TAB Meetings Breakdown
FCPL has TAB groups at several of its branches and the groups usually meet once or twice a month to plan activities. Some TAB groups have space limitations, so check with your branch about availability. Meeting dates and times are also subject to change, so for the latest info, visit bit.ly/fcpl-tab-events or visit your local FCPL branch.
Burke Centre Library TAB
Meets two Saturdays a month (dates vary)
 
Dolley Madison Library TAB
Meets either the third OR fourth Saturday of the month
 
City of Fairfax Regional Library TAB
Meets first AND third Tuesday of the month
 
George Mason Regional Library TAB
Meets first Monday of the month
 
Herndon Fortnightly Library TAB
Meets second Monday of the month
 
Kingstowne Library TAB
Meets second Monday of the month
 
Lorton Library TAB
Meets last Monday of the month
 
Reston Regional Library TAB
Meets second AND fourth Tuesday of the month
 
Richard Byrd Library TAB
Meets last Monday of the month
 
Tysons-Pimmit Regional Library TAB
Meets first Monday of the month