December 15, 2017
With the launching of the county's new website system, the GIS and Mapping Services Branch offers a new way to find the GIS resources you need. On our homepage, and most of the other pages, you will find links to our three primary Department Resources pages. With nearly 50 interactive mapping applications, our GIS Applications page offers several ways to find the app you're looking for: by visiting thematic galleries, linking directly to our most popular apps, or browsing our entire app collection. On the GIS Data page, you can access our Open Data site, explore the options for viewing aerial imagery, and learn how to purchase our topography dataset. GIS FAQs is designed to guide you to the services and resources you need with a series of common questions and the best options to address them. Our pages will continue to develop (and improve!) as we learn the most effective ways to deploy our new website tools. Stay tuned!
January 11, 2018
2017 aerial photography has been added to the Historical Imagery Viewer. You can access the application on our Aerial Photography page.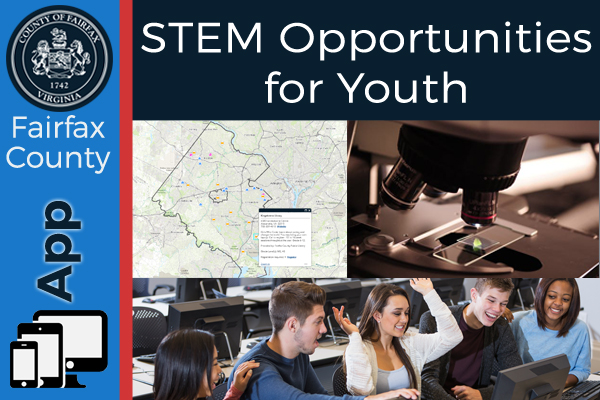 October 29, 2017
The Fairfax County STEM viewer allows users to find Science, Technology, Engineering and Math programs by a subject area (coding, MakerSpace, robotics, etc.), near a Fairfax County address or in the vicinity of schools, libraries or areas (school attendance area, ZIP code, etc.).
GIS Day
GIS Day is a global event during which GIS (Geographic Information Systems) users work to expand the understanding of how GIS technology and geography make a difference in our lives. GIS, a computer-based tool used to map and analyze features and events, combines the power of a database with the visualization capabilities offered by maps. Hundreds of thousands of people in the world use GIS to solve problems in areas such as environmental protection, pollution, health care, land use, asset de