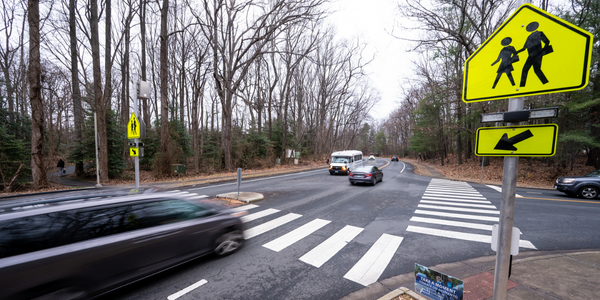 (Updated April 12, 2023)
Slowing down drivers and improving traffic safety are the objectives of a new Speed Camera Pilot Program that will include the installation of photo monitoring devices (speed cameras) in eight school zones. Data suggests that school zone speeding is prevalent and cameras are effective.  In the five school zones surveyed last year, thousands of drivers exceeded the speed limit by more than 10 mph during the sample period. 
Ultimately, it is expected that the pilot program will change driver behaviors to keep Fairfax County residents safe.
5 Things to Know about the Pilot Program
Studies indicate that speed camera enforcement reduce traffic related injuries and accidents and ultimately save lives.
Speed cameras will help protect pedestrians, especially in congested and vulnerable locations.
The pilot program has one overarching goal: to improve the safety of roads for all residents.
The cameras are only active when the school zone is in effect.
There are no points or insurance impacts resulting from a citation. An escalating fine structure, starting at 10 mph over the limit, maxes out at $100. 
Speed Camera Locations
Chesterbrook Elementary School: Kirby Road near the school (Dranesville District)
Irving Middle School: Old Keene Mill Road near the school (Braddock District)
Key Middle School: Franconia Road- near the school (Franconia District)
London Towne Elementary School: Stone Road near the school (Sully District)
Sleepy Hollow Elementary School: Sleepy Hollow Road near the school (Mason District)
South County Middle School: Silverbrook Road near the school (Mt. Vernon District)
Terraset Elementary School: Soapstone Drive near the school (Hunter Mill District)
West Springfield High School: Rolling Road near the school (Springfield District)
An additional school zone speed camera near Oakton High School (Blake Lane near Sutton Road) and a work zone speed camera at Route 28 (near Old Mill Road) are forthcoming.
"The goal of the Speed Camera Pilot program is to improve the safety of our roads, protect pedestrians and motorists and prevent accidents," said Board of Supervisors Chairman Jeffrey C. McKay. "This program, in coordination with the Police Department and Fairfax County Public Schools, is a critical tool to deter dangerous behavior and ultimately save lives.  As you drive in our neighborhoods and school zones—the message is clear, please take a moment to slow down."
"We continue to see motorists traveling at speeds well above the posted speed limit and too many crashes are occurring in our county as a result. This program provides a great tool to help reduce speed, deter pedestrian crashes, and keep our communities safe, said Chief of Police Kevin Davis.
Safety Resources
Speed Camera Pilot Program provides speed camera locations, communications toolkit and pedestrian and traffic resources.
Take a Moment Initiative provides information on a countywide pedestrian, bike and traffic safety initiative including safety tips, communications toolkit and resources.
Transportation Projects, Studies and Plans provide an overview of projects, studies and regional efforts for enhancing mobility and safety.
Active Transportation Program works in coordination with county and state agencies to improve transportation infrastructure and encourage safe and active ways to move around Fairfax County.
Crosswalk Improvement and Maintenance Projects provide information on the crosswalk projects, trail and sidewalk maintenance and speed display signs.
Pedestrian Projects highlight Fairfax County's Department of Transportation pedestrian initiatives to increase pedestrian safety, accessibility and mobility. 
Safe Routes to School provide transportation options and routes to encourage students and families to get to school safely.