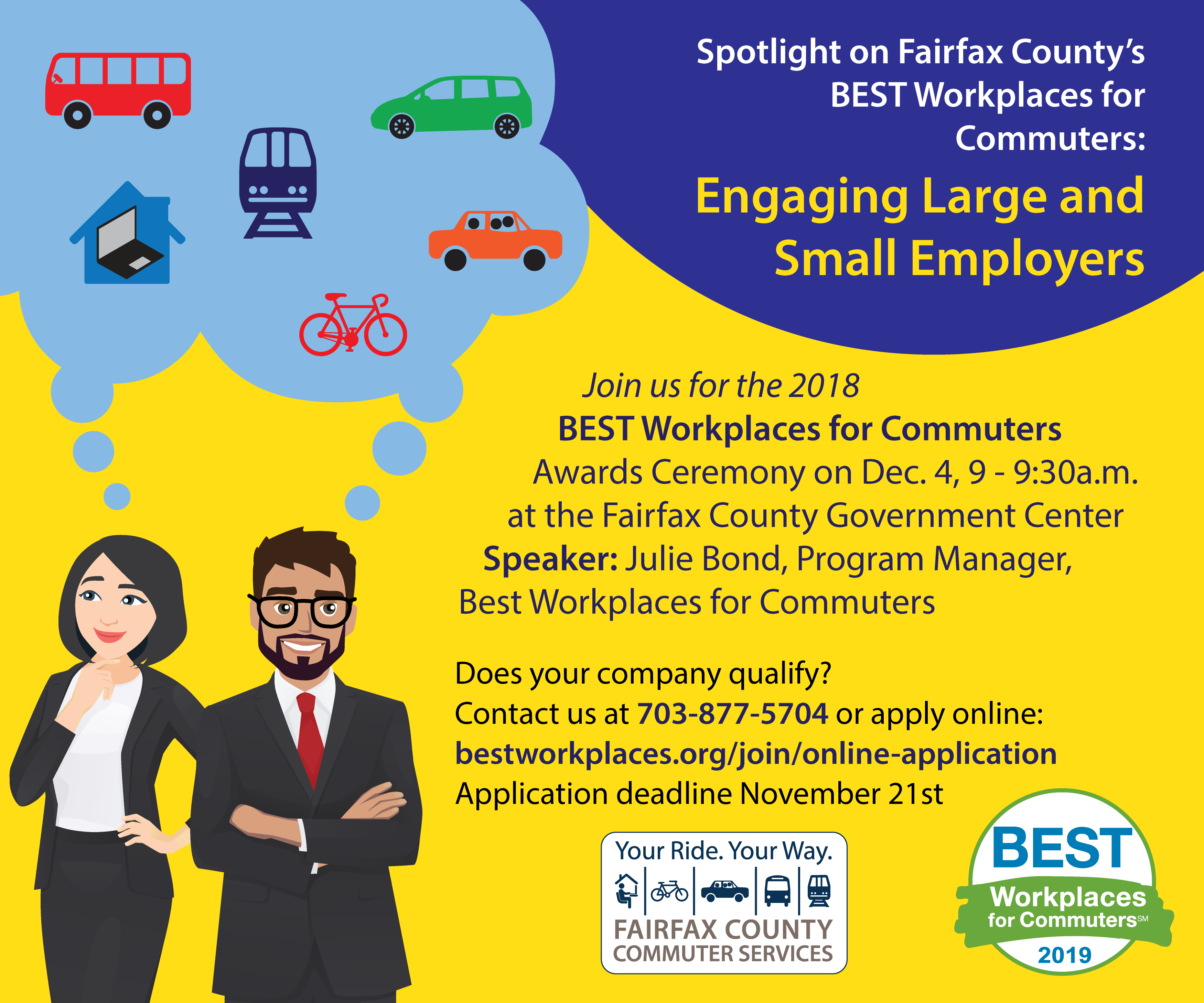 The Fairfax County Department of Transportation partners with Best Workplaces for Commuters (BWC) to recognize employers who have excelled in implementing green commuter programs, including ride-sharing, transit benefits, biking and walking, teleworking, alternate work schedules and other strategies.
The Fairfax County Commuter Services team will provide technical assistance to help employers meet Best Workplaces for Commuters' National Standard of Excellence, assist in the completion of the application, and pay two years of the annual fee. Qualified workplaces will receive:
National and local government recognition for being commuter-friendly and socially responsible
A plaque recognizing the achievement of this elite status
Employer name listed on BWC National Website and Fairfax County social media
Exclusive use of the BWC Logo on your website and materials
The opportunity to participate in the Race to Excellence and receive recognition at a "Live" National Awards Ceremony
Access to web conferences and training to help implement commuter benefits
Web-based tools to calculate the overall financial, environmental, and traffic improvements associated with their commuter benefits
Access to BWC's help desk and one-on-one assistance
Networking opportunities with peers and experts in the field of commuter benefits
Two year free membership in Best Workplaces for Commuters ($400 per worksite)
Past Awardees
2018
AbleVets
Bart & Associates
KeyW Corporation
LMI
Merritt Group
Morgan Franklin Consulting
Northwest Federal Credit Union
Odin, Feldman & Pittleman
Qore Performance
Revature
Schneider Electric
SeKON Enterprise, Inc.
TeraThink Corporation
Tesla Government
2017
2016
Ernst + Young
Nada
Strategy and Management Systems
Capital Automotive
Quest Diagnostic
2015
Horizon Industries Limited
Prosperity Metro Plaza
FUTREND
U. S. Geological Survey
Kimley-Horn
Freddie Mac
Synaptek Corporation
National Student Clearinghouse
FOX Architects LLC
Pyramid Systems Inc.
2014
AFCEA International
Alzheimer's Association
Northrop Grumman
Volume Integration
Innovative Workflow / Virpack
Russ Reid
Interstate Moving / Relocation / Logistics
XLA
Navy Federal Credit Union

2013
ActioNet
General Dynamics
ExxonMobil
Washington Gas
Ellucian
Virginia International University
The MITRE Corporation
Noblis
Fair Lakes Office Park (Best Sites)
Corporate Office Centre at Tysons II (Best Sites)
2012
Oracle
Community Associations Institute
(AIAA) American Institute of Aeronautics and Astronautics
(VDOT) Virginia Department of Transportation
SRA International (Fairfax)
SRA International (Arlington)
(DHHQ) Defense Health Headquarters
Towers Crescent (Best Sites)
Tysons Corner Center (Best Sites)
2011
National Geospatial-Intelligence Agency
(CSC) Computer Science Corporation
Reston Interfaith, Inc.
Energy and Security Group
Department of the Army, U.S. Installation Management Command Headquarters,
United States Army Garrison (Fort Belvoir, VA)
CALIBRE
Cascades Technologies Inc.
PricewaterhouseCoopers
High Performance Technologies Inc.
2010
Fairfax County Government
The Aerospace Corporation
Booz Allen Hamilton
George Mason University
ICF International
INOVA Fairfax Hospital
INOVA Alexandria Hospital
National Wildlife Federation
Orange Business Services/France Telecom Group
(SAIC) Science Applications International Corporation