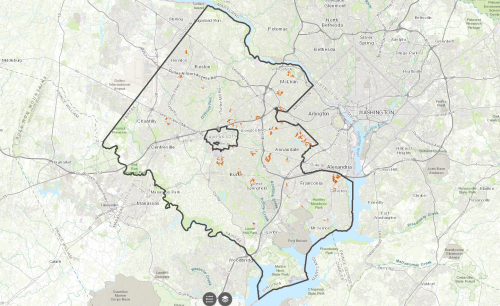 The Fairfax County Residential Permit Parking District (RPPD) program was created to reduce traffic in residential areas, protect those areas from the environmental impacts of commuting, and allow access to properties. This is accomplished by creating on-street parking restrictions on public roadways in designated areas in accordance with the Code of the County of Fairfax, Chapter 82, Article 5A.
Click here to view the RPPD Map (Interactive map of existing RPPDs)
Residential Permit Parking Districts are normally created in areas near high schools, Virginia College or University campuses, or Metrorail stations where the availability of parking for residents is affected by non-resident parking.
A minimum of 100 contiguous or nearly contiguous on-street parking spaces, 20 linear feet in length per space is required to establish any new Residential Permit Parking District. This minimum applies to new Districts only, and is not required for expansions of existing Districts.
QUALIFICATIONS:
Distance: Residential public road/s within 2,000 ft. walking distance from a pedestrian entrance and/or 1,000 ft. from the property boundary of a high school, Virginia College/University or metro station pedestrian entrance

OR
 
Parking Demand Study: Residential public road/s that do not meet the distance requirements above can apply for RPPD inclusion by parking demand study, conducted through Fairfax County Department of Transportation (FCDOT). The results of that study must yield the following results to qualify:

At least 75% of the legal on-street parking spaces, as determined by FCDOT Traffic Engineering staff, are occupied by parked vehicles; AND
At least 50% of those parked vehicles are determined by FCDOT to be non-resident vehicles
PROCEDURES:
A request is made by the HOA* to the local District Supervisor. All requests should include the extent of the requested area, the perceived source of the parking issue, and when the parking is the most egregious. Requests for NEW Residential Permit Parking Districts should also include the desired time and days of restriction.
District Supervisor's office forwards request to FCDOT.
FCDOT reviews road/s documenting eligibility for restriction and conducts field review if required.
If eligibility is confirmed, an official petition is issued by FCDOT.
The community gathers signatures verifying at least 60% support for the entire proposed area and more than 50% support along each block face.
Fee of $10 per signed petition address and completed petition are returned to District Supervisor. Please verify that the dollar amount correctly corresponds to the number of signatures collected before submitting to the District Supervisor's office.
The District Supervisor forwards the verified petition and fee to FCDOT for review.
The Board of Supervisors conducts a public hearing to consider the proposed RPP District.
If approved, FCDOT installs "No Parking Except by Permit" signs on all affected roads according to established federal, state , and local sign placement policies and standards. 
Temporary Residential Permit Parking Districts: Temporary RPPDs may be established to address short-term situations, such as a specific construction project, which lasts at least six months in duration and creates temporary parking problems in adjacent residential areas. A temporary district must be approved by the Board of Supervisors through Public Hearing.
* Homeowner's Association (HOA) implies civic association, community association, etc., as applicable. Where there is no HOA representing an area, a written request signed by residents of at least ten residences or 60% of the residences in the proposed area, whichever is less, may be submitted to the District Supervisor for consideration of RPPD inclusion.
COVID-19 and Residential Parking Permit Process Changes
Fairfax County Department of Transportation is currently closed to the public as part of Fairfax County's response to the COVID-19 pandemic. Temporary parking permits are not available in-person at the current time. All permits are sent via U.S. Mail. We encourage residents to apply online using the
RPPD application page
.
Residents who are unable to apply online should contact RPPD Staff to obtain a paper application by mail. To request an application, call the RPPD information line at 703-877-5877, TTY 711, or the FCDOT main number 703-877-5600, TTY 711. You may also email your request to
RPPD@fairfaxcounty.gov
.
---
You can apply for a permit online by visiting our RPPD Application page.
As a reminder, you must register your vehicle/s at the Fairfax County Department of Tax Administration (DTA) with your RPPD address as the 'garaged address' before your application can be processed.
Residential Permit Parking Districts are marked by signs indicating the parking restriction details. Districts that specify SCHOOL DAYS restrict parking during the standard school year calendar.
There are several different types of permits and passes used in RPPDs:
Vehicle Permit – Valid for up to one year. They are affixed to the lower left of a vehicle's rear window (may not be taped on). If the vehicle does not have a rear window or the window is obscured, the permit may be displayed on the rear-most driver's side window in the lower right corner.
Visitor Pass – Eligible residences may be issued one visitor pass.
If your address is eligible for a visitor pass and one has not already been issued for the address, you will receive one automatically when we fulfill the first request for a permanent vehicle permit at your address. Visitor passes are not issued to multifamily or townhouse addresses which have off-street parking provided.
A visitor pass is to be used by visitors to your home and is to be returned to you when they leave. It is not to be used by individuals residing at your address or loaned to others to use while not visiting your home such as parking for METRO or attending school. Misuse of a visitor pass can result in confiscation of the pass and a fine of $100. The pass is to be displayed on the front dashboard of the vehicle.
Sixty-Day Pass – Valid for up to sixty days, issued to persons who have just moved into an RPPD or have purchased a new vehicle and do not yet have the required documentation for a permit. A resident is entitled to only one 60-day pass. The pass is to be displayed on the front dashboard of the vehicle.
Vehicle Exemption Pass – Issued at the discretion of the Police Department or DOT to allow vehicles to park in RPPDs on a temporary basis for a specific reason. The pass is to be displayed on the front dashboard of the vehicle. Vehicle exemption passes are typically issued for a single day, in limited quantity.
*RPPD residents requesting an exemption pass must provide the license plate number of the vehicle that will display the pass.
Non-Resident Owner Pass – Issued for a two week maximum to non-resident property owners who need to park in an RPPD to remodel or repair their property. The pass is to be displayed on the front dashboard of the vehicle.
Note: RPPD restrictions do not apply to public agency vehicles or marked vehicles actively providing services or deliveries.
Fairfax County Department of Tax Administration (DTA)
According to the Fairfax County Code, new/moving residents, or those registering a vehicle for the first time with the Virginia Department of Motor Vehicles (DMV), must also register their vehicle with the Fairfax County Department of Tax Administration (DTA) within 60 days after purchase or entry into or moving within the County (even active military) for personal property tax purposes. When you register or change your address with DMV, they do not inform Fairfax County of this change. You must take steps to do this yourself.
If you have not yet registered with DTA, you can do so on the DTA Vehicle Registration web page. Please take note of the Transaction Reference Number (TRN) at the end of your session, you will need this number to apply for an RPPD permit. If you have moved a vehicle within Fairfax County or need to update your information, you can do so on the DTA Vehicle Update Options web page.
Commonwealth of Virginia
Virginia Code requires vehicles parked in Virginia to have Virginia license plates on both the front and rear of the vehicle within 30 days of entry into Virginia unless you are active military. If you are moving within the state, the same 30 days applies to an address change. Information on how to register a vehicle in Virginia is available at any one of the local offices of the Virginia Department of Motor Vehicles (DMV) or on the DMV web site.
Vehicles parked in violation of an RPPD restriction are subject to a $75 fine for each violation and may be towed at the owner's expense.
Violations of the following provisions are subject to a $100 fine:
It shall be unlawful for any person to represent that they are entitled to a parking permit/pass when they are not so entitled, to fail to destroy a permit/pass to which they are no longer entitled, or to park a vehicle displaying such a permit/pass at any time when the user of such permit/pass is not entitled to it.
It shall be unlawful for any person entitled to a visitor pass to allow said pass to be used by anyone other than a person visiting a residence in the specified Residential Permit Parking District.