Project News and Updates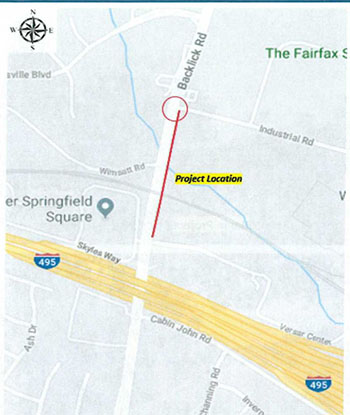 The Fairfax County Department of Transportation held an online community meeting to discuss the Backlick Road Spot Improvements project on Wednesday, Dec. 16, 2020, at 7 p.m. FCDOT staff presented the project design, impacts and upcoming tasks.
Comments will be accepted through Thursday, Dec. 31, 2020:
Use the Feedback link at the bottom of this page to email the project team.
Submit comments in writing to FCDOT, Backlick Road Spot Improvements Project, 4050 Legato Road, Suite 400, Fairfax, VA 22003.
Call 703-877-5600; TTY 711.
 
Project Description
The project was originated to improve the congestion and safety of the intersection at Backlick Road and Industrial Road by adding an exclusive northbound left turn lane. Plans also include the construction of approximately 1,250 feet of sidewalk on the east side of Backlick Road, extending to the north and south of Industrial Road, which will complete a missing link. 
Funding Source: 400-C40013
Backlick Road Spot Improvements Cost

| | |
| --- | --- |
| Design | $1,060,000 |
| ROW & Utility Relocation | $375,000 |
| Construction | $5,600,000 |
FCDOT ensures nondiscrimination in all programs and activities in accordance with Title VI of the Civil Rights Act of 1964 and the Americans with Disabilities Act (ADA). If you need this information in an alternate format or would like to request reasonable accommodations for persons with disabilities or limited English proficiency, contact FCDOT at 703-877-5600, TTY 711. Requests for assistance must be received at least 7 business days in advance of an event.