Project News and Updates
The Chain Bridge Road sidewalk project will provide approximately 3600 LF of 5 foot to 6 foot wide sidewalk along northbound Chain Bridge Road between Niblick Road and the north intersection with Horseshoe Drive. The project also includes a pedestrian signal, 6 curb ramps, and associated storm sewer improvements. Project is funded by County Commercial and Industrial Property Tax (C&I funds). Construction is anticipated in 2018.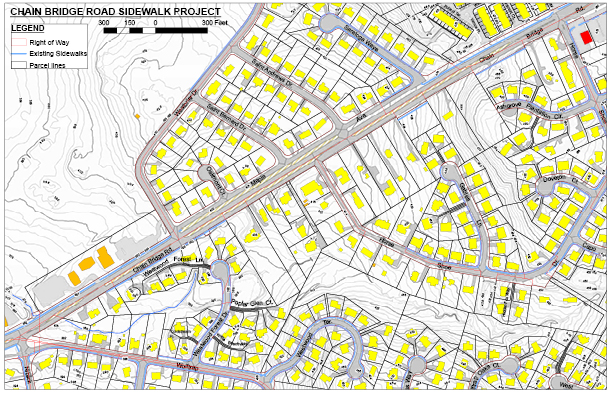 For questions on the Chain Bridge Road Sidewalk project, please contact FCDOT:
Via the comment form on this page.
By calling 703-877-5600, TTY 711.
Via U.S. mail: Fairfax County Department of Tranportation, 4050 Legato Road, Suite 400, Fairfax, VA 22033.
FCDOT ensures nondiscrimination in all programs and activities in accordance with Title VI of the Civil Rights Act of 1964 and the Americans with Disabilities Act (ADA). If you need this information in an alternate format or would like to request reasonable accommodations for persons with disabilities or limited English proficiency, contact FCDOT at 703-877-5600, TTY 711. Requests for assistance must be received at least 7 business days in advance of an event.