Project News and Updates
On May 2, 2017, Supervisor Catherine Hudgins submitted a Board Matter to Authorize a Plan Amendment for the Comprehensive Plan and on the Transportation Plan Map to reflect the preferred alternative for Sunset Hills Road as recommended in the Hunter Mill Road Study. The preferred alternative includes a realignment of Sunset Hills Road to Crowell Road with a four-leg roundabout, while the existing signals would remain in the three other study intersections on Hunter Mill Road. The study also confirmed the need for four lanes on Hunter Mill Road from Sunrise Valley Drive to Sunset Hills Road, as currently recommended on the Transportation Plan Map.
For questions about the study, please contact FCDOT staff using the submission form on this page, or call 703-877-5600.
Project Background
The purpose of this study is to address the recurring congestion on Hunter Mill Road from Sunrise Valley Drive to the Colvin Run Bridge during the morning and evening
peak hours. The congestion is heavily concentrated at the intersections of Sunset Hills Road and the westbound Dulles Toll Road ramps at Hunter Mill Road. These two intersections are closely spaced and constrained by the existing bridge. The number of vehicles using Hunter Mill Road is forecasted to increase in the future. With the opening of the Wiehle-Reston East Metrorail station, new development anticipated in Reston, and an increase in background traffic associated with development elsewhere in the region, vehicular traffic is expected to increase in this area. This study will look at alternatives to mitigate the existing and future conditions to ensure traffic can move efficiently through the intersections.
During the first half of 2015, FCDOT conducted the Hunter Mill Road and Sunset Hills Road Study to evaluate operational issues on Hunter Mill Road between Sunrise Valley Drive and Colvin Run.  In July of 2015, FCDOT deferred the Hunter Mill Road Study at the request of the community in order to allow for new capacity analysis methodologies for roundabouts to be adopted by the Transportation Research Board in January 2016 at their annual meeting. These results of the new capacity methodologies and an expanded scope for the study were presented at a public meeting in June 2016.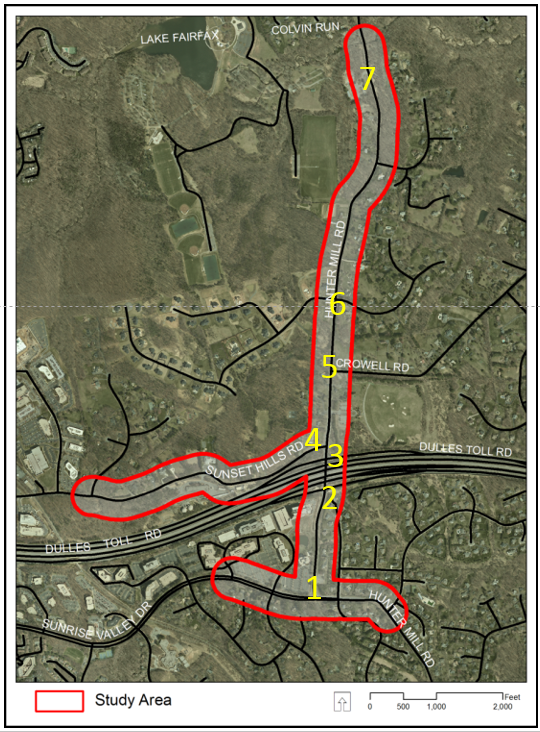 Preliminary Alternatives
Six alternatives were presented at the Sept. 15, 2016, community meeting:
Previously, four preliminary alternatives were developed, analyzed and presented on May 20, 2015, at the 3rd Hunter Mill Road community meeting. The presentation and alternatives presented at this meeting can be reviewed below.
Hunter Mill Road and Sunset Hills Road Study Presentations
FCDOT ensures nondiscrimination in all programs and activities in accordance with Title VI of the Civil Rights Act of 1964 and the Americans with Disabilities Act (ADA). If you need this information in an alternate format, contact FCDOT at 703-877-5600, TTY 711. Requests for assistance must be received at least 7 business days in advance of an event.